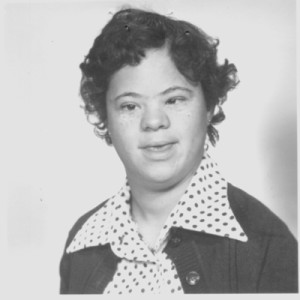 Cynthia Pursley was my sister. She was older than me by almost two years, but because she was born with Down's Syndrome, we were both considered the "babies" of the family.
Cynthia was a total blessing to our family. I have never met a being who was more loving, open, honest, and trusting. In truth, she was a complete delight. We never had the kinds of arguments or fights that sisters close in age often have. They just didn't happen.
When I was around eleven, I taught Cynthia how to read and write. At the time, I think there were some assumptions in the schools and centers for what they called "special" children, that children with Down's Syndrome and other such genetic variations could not be taught how to read or write, but I found that she learned very quickly. After learning how to read and write, she wasted no time in writing a letter to a boy that she liked, asking if he would "have" her. It was precious. Since we lived a lot of time in Mexico, she was also bilingual.
Cynthia had been in Jonestown just ten days before she died. That painful place in my heart actually gives me strength, rather than despair. Once in a while, I wonder how things would be if she were here now.
I am grateful to have been her sister and for the radiance that she shined towards all of those she loved and into the world. As I used to say, "Cynnie, you're the best."
(Jordan Vilchez was in Georgetown, Guyana on November 18, 1978, but her sisters and nephews died in Jonestown. Her other article in this edition of the jonestown report is The Book That Wasn't. Her previous writings are here. She can be reached at jordanvilchez@gmail.com.)
Originally posted on July 28th, 2013.
Last modified on November 14th, 2013.