Purpose of the Site Purpose of the Site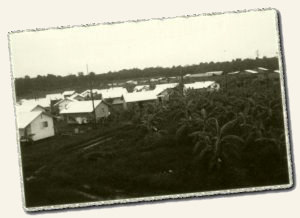 Houses in Jonestown, May 1979
This site was inaugurated prior to the twentieth anniversary of the deaths in Jonestown, 18 November 1998. Anticipating much media interest and coverage, as well as scholarly and popular study of Peoples Temple as a result, the Department of Philosophy and Religion at the University of North Dakota began this website to present accurate, credible, and comprehensive information about Peoples Temple. The site was designed by a UND Religious Studies major, Kevin Hozak.
In the years since the site's inception, the site has moved to the Department of Religious Studies at San Diego State University. We have added many primary source documents to the site, including photographs, audiotape transcripts, government documents, Peoples Temple-generated documents, and original articles. Thus our aim is to present as much factual information as is available, and as many original documents as we are able to identify, transcribe, and reproduce for anyone wishing to learn more about Peoples Temple and its members.
The twenty-fifth anniversary of the deaths in Jonestown is coming up this year on 18 November 2003 and thus we anticipate continued interest in the people who lived and died in Jonestown. We will be continually updating the site and adding new material this year and in the years to come.
Back to the Archive Back to the Top





Originally posted on June 16th, 2013.
Last modified on December 26th, 2020.