Transcribed from her handwritten notes by Don Beck
RYMUR-89-4286-C-3-A-1 (2)
Download Word (.doc) version of July 1978
Aside from the single entry below – found on second page of the August pdf – nothing more of the July Journal has surfaced. The entry was x'd out (see below) probably as it was not part of her August notes. If more emerges, we will gain more insights into what happened in one of the critical last few months.
===========================================
28 July 1968* – Friday
*Though it was dated 1968, July 28, 1968 was a Sunday while July 28. 1978 was a Friday. It is probable that she wrote the wrong year: a 6 instead of a 7, especially as the notes refer to activities in Jonestown, which was 1978 NOT 1968.
Socialism Class
With a number of other women we placed a seat in a good place, signed in. Helen Love beside me, I worked on journal for a while. A portion of today's tape was played.
Jim entered. He inquired whether everybody was ready for the written test and on being told that most had not heard the news today, he said asked who had heard yesterday's news. Few had. He said we would definitely have a written test tomorrow. He then gave a list of questions and asked for volunteers to answer them. These people joined the line and Jim promised a reward this time for "positive reinforcement" People who answered got a half day off. Those who answered only partially got 1 hour or 2.
In the midst of questioning, Jim spent some time on the Huey Newton article. Showed around a copy of magazine "New Times" with painting of Huey, makes him worse than Manson. Geared to those who can't read and those who can. They don't have to assassinate any more. The media shoot him down. Some people can't stand this type of attack. All they had was their public image.
Original picture of page in .pdf file: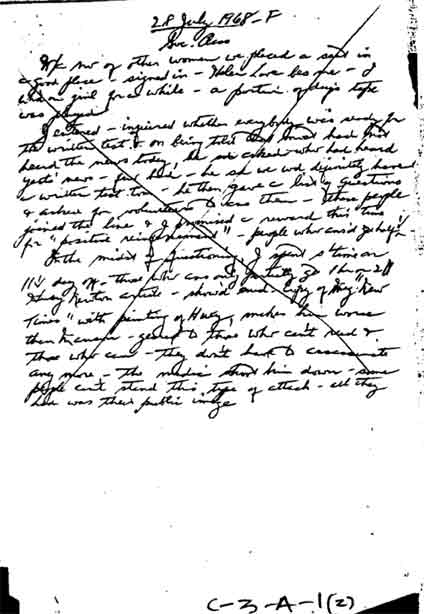 Back to Edith Roller
Back to the Top
Originally posted on July 25th, 2013.
Last modified on November 8th, 2018.