This series of three hand-drawn maps shows the central living area of Jonestown including cottages, the pavilion, dormitories, medical buildings, the kitchen, dining areas, school tents, gardens, and the playground. The maps are referenced with a numerical and alphabetic grid system to locate places on the map.
Though most of the writing is somewhat readable, clearer copies may show even more information, and we will continue our search for them.
Included in the weapons section in the FBI's classification of Peoples Temple documents, these maps may have been found with weapons or security materials. Marking on the map do not appear to be security notations, however, nor do they locate security positions.
Below is the clearest map of the three in a jpg format.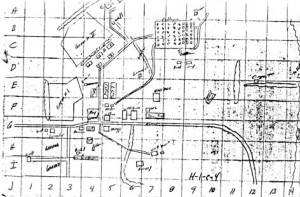 You can also download the original three pdf maps.
Source: RYMUR-89-4286-2018- H-1-e-4 to H-1-e-4-6
Originally posted on June 16th, 2013.
Last modified on February 12th, 2021.