Jonestown was in the Northwest District of Guyana, located between Port Kaituma and Matthews Ridge. The entrance was about three miles from Port Kaituma. The road from the entrance into the settlement itself was approximately another three miles.
More details below map.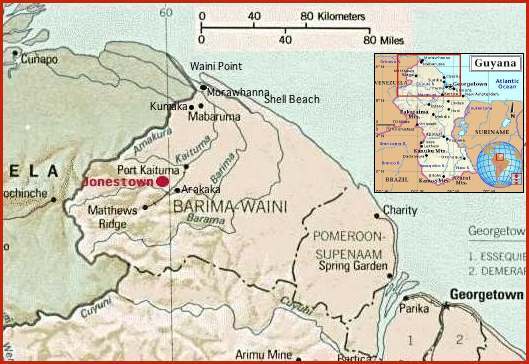 • Matthews Ridge was the site of manganese ore mining from 1954 to 1968. "Between 1960 and 1969 about eight hundred tons of manganese concentrate were produced daily."[1] To transport the ore, the mining company built a railroad – indicated on the map – between Matthews Ridge and Port Kaituma. The road running parallel to the tracks does not appear. Both the railroad and road were about 26 miles long.
• The Kaituma River and Barima River were dredged deep enough to allow ships into Port Kaituma to pick up ore to be refined. The closure of the mine in 1968 "was due to the large fall in the price of manganese, though local people continue to blame the Guyana government, alleging that the company responded to labor agitation and rumors of impending nationalization."[2] The abandoned railroad was eventually operated by the government. By 1974, the parallel road was rough and largely in disrepair.
• There were airplane landing strips at Port Kaituma, Matthews Ridge and at Mabaruma.
• The Cudjoe traveled from Georgetown along the coast, north to Waini Point, followed the Barima River to the Kaituma River, and then to Port Kaituma. According to the Roller Journals, a building was used in Port Kaituma for storing goods.
• Patty Cartmell, Rheaviana Beam and Tommy Johnson ran a store at Arakaka as well as roving up and down the river to procure food (fruits, vegetables, etc.) for Jonestown needs.[3]
• A proposal was written up by Gene Chaikin about the feasibility of operating a night club, likely in Arakaka.[4] The proposal was never acted upon.
Footnotes
[3] From Edith Roller Journals: "Patty Cartmell described her last procurement trip with Rheaviana Beam and Tommy Johnson, giving much amusement to the audience," February 1978 (entry for 4 February); "I thought I saw Jann [Gurvich] going towards her living quarters and tried to find her. Someone told me she had gone up river with Patty Cartmell and party. I knew she had seen the Job Change committee," April 1978 (entry for 9 April); "Patty Cartmell described her latest trip up the river with Rheaviana [Beam], Tommy Johnson and Chuck Beikman," June 1978 (entry for 4 June).
[4] Source: RYMUR-89-4286-2018 C-7-h-7.
Originally posted on July 25th, 2013.
Last modified on February 12th, 2021.