Albert E. Kahn appears in a number of Jonestown tapes and resources, including Q 242, Q 620, and a listing of endorsements for Peoples Temple. He also appears in Jonestown's radio codebook, suggesting his importance to Jim Jones.
While not a member of Peoples Temple, he nevertheless shared many of Jim Jones' political beliefs, and indeed, his presence at some Temple gatherings reinforced Jones' stature as the communist that he professed to be.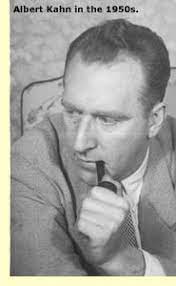 Albert Kahn was a writer and journalist who joined the Communist Party USA in 1938 after spending some time assisting the Spanish Loyalists in their civil war against the fascist forces of Franco. His books attacking German propaganda, criticizing American attitudes towards its former ally, the Soviet Union, following World War II, and documenting the effects of the Cold War upon American society, brought him to the attention of J. Edgar Hoover in the FBI, which maintained a substantial file on him. His criticism of American policies extended to his perceived excesses of the McCarthy era, the persecution of the Rosenbergs, and the flawed mission in Vietnam. He ran once for a major public office – on the Americcan Labor Party ticket – for Congress in 1948.
At least one non-Temple source speaks of the relationship between Jim Jones and Albert Kahn, focusing on an invitation Kahn extended to Jones to attend a conference with him. As the book, The KGB Against the "Main Enemy": How the Soviet Intelligence Service Operates Against the United States (Lexington Books, 1989), reported, a document written by a Jones associate, dated April 17, contained the following information about an invitation Kahn extended to Jones to attend the World Peace Council in May 1977:
Romesh Chandra [Secretary-General of World Peace Council] suggested that Jim go to Warsaw with the Guyanese delegation. Albert Kahn felt that he should NOT go with the Guyanese delegation; but should come to New York to fly out with the US guests. He stresses that if Jim went with American guests, he would be much more comfortable, would get to meet 'top' people, and would in general get decent treatment. Kahn mentioned that often at these kinds of conferences, there is danger of people having to go through a lot of hassles. Kahn would want to shepherd Jim through, he would want to insure that his visa were appropriately cleared with Russian embassies in San Francisco and Washington. He would also make it possible for Jim to visit in the USSR. The plan will be for them to fly on May 1st to Moscow direct. Spend a day in Moscow, then fly to Warsaw (one hour). The conference begins on May 5th. When it is over, Kahn suggests that Jim go to Moscow and he will be able to arrange for him to travel wherever he wants in the USSR with a car, driver, interpreter, the works. This he (Kahn) can arrange. In speaking earlier with Marceline, Albert said he would speak forthrightly about Jim's work in Warsaw to the assembled delegation, and that his work would thereby get international recognition. Kahn thought it would be critical for Jim to be identified with U.S. delegation, so world would hear of his work in USA — his contribution in American peace movement would be crucial for the international community to hear about. This would be obscured if he were to come with another nation's delegation. Note: Officially, Jim would be coming as a 'guest' invited specially by Romesh Chandra (p. 121).
More information on Mr. Kahn may be found on his Wikipedia page.
The managers of this site are grateful to Thomas Mrett for providing us this information.
Originally posted on May 23rd, 2014.
Last modified on June 17th, 2023.