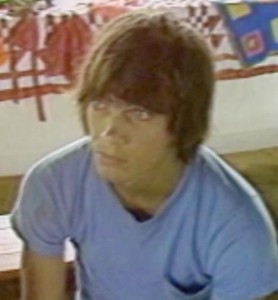 Jonestown survivor Christopher O'Neal was shot to death during an altercation with police in Lucerne, California, in November 2014. He was 56.
O'Neal had traveled to Jonestown to be with his girlfriend Brenda Parks – and not as a member of Peoples Temple himself – and joined the Parks family in leaving with Congressman Leo Ryan on November 18, 1978. He was one of several survivors who returned to Jonestown in the aftermath of the deaths to assist in identifying bodies.
O'Neal suffered from depression stemming from his experiences, including night terrors which apparently increased as the anniversaries approached. On this occasion, about a week before the 36th anniversary, O'Neal reportedly used a fake name when calling the police about a domestic disturbance involving himself, then menaced responding officers with a knife. He was shot seven times. The county district attorney's report, released in February 2015, described the incident as "suicide by cop" and ruled the killing as a justifiable homicide.
An earlier story in the immediate aftermath of the incident is here.
O'Neal, who had had several previous scrapes with the law, had lived in the Ukiah area since his return from Jonestown.
Other obituaries appear here. Jennifer Kathleen Gibbons' reflection on Christopher O'Neal appears here.
His most well-known appearances are on several places on NBC's news footage from Jonestown's final weekend, such as on a minute-long segment beginning at 13:39 and following – including a short conversation with him and Jim Jones at 14:12-14:20 – and in a minute long clip from 28:16 – 29:17. His interview with the FBI upon his return to the United States from Guyana in December 1978 appears here.
• Chris Lewis, the son of the Peoples Temple member of the same name whom Jim Jones considered as his bodyguard, faced court dates in mid-November in California Superior Court in Sacramento County in connection with charges of assault with a deadly weapon and threats to commit a crime resulting in death or grievous bodily injury. The incident, for which he is being held on bail in excess of $600,000, occurred in May 2015. If convicted, he faces a possible life sentence.
• A lawsuit which would have forced Evergreen Cemetery in Oakland, California to remove four memorial panels at the mass grave where more than 400 unidentified and unclaimed bodies from the Jonestown tragedy are buried, is dead. Filed in May 2011 by the Guyana Tribute Foundation, the case was dismissed in May 2014, but foundation head Dr. Jynona Norwood appealed the dismissal. Earlier this year, a state appeals court rejected the effort to keep the case alive.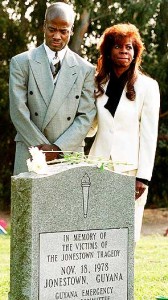 In an unrelated development, the PR Newswire reported on January 14, 2015, that Rev. Norwood's church, the Family Christian Cathedral in Inglewood, California, may be forced to close. According to the news release, "[Norwood] claims that she has a forensic handwriting declaration stating that her name was forged on documents, that there have been ACH [Automated Clearing House] debits she is unaware of, and that authorities suspect this to be a case of identity theft and possible money laundering." There have been no further developments on this story.
Rev. Norwood has led memorial services for the Jonestown dead at Evergreen Cemetery every year on November 18 since 1979. Coverage from the 2014 service appeared in Oakland North, a news project of UC Berkeley's Graduate School of Journalism, on November 19.
Other News Stories from 2015
Jim Jones made the news on at least two occasions this past year in Indianapolis, Indiana, the city of Peoples Temple's origin.
Invoking the provisions of the recently-enacted Religious Freedom Restoration Act, Bill Levin, the leader of the First Church of Cannabis in Indiana's capital city argued that its members had the right to smoke marijuana within a religious setting. The city's police chief Rick Hite attacked the interpretation, comparing the church to Peoples Temple and its leader to Jim Jones. A story about the chief's remarks – and the reaction to them – appears here. According to a follow-up story, Levin initially described himself as "amused by the comparison, but later found it offensive… Hite's comment was 'religious bigotry' and a 'vulgar insult to our new religion,' [Levin said]."
An Indianapolis Star listing of Notable small-town Hoosiers placed Jim Jones of Lynn, Indiana – population 1083 – at #5. The photo of him is from his monkey-selling days before he turned fulltime to his ministry.
Ex-member says church was 'tyrannical,' compares it to Jonestown
by Philip A. Vanno, Utica Observer-Dispatch, October 15, 2015
"For the past 15 years, Chadwick M. Handville has done everything he could to forget the time he spent as a member, worship leader and trustee at the Word of Life Christian Church in Chadwicks [New York]… 'It was horrible,' said Handville, who has divorced his wife — whom he met at the Church — and lost touch with his stepchildren since leaving the church in June 2000. 'There was constant manipulation, intimidation, fear and lies. And seeing what has happened now all over the news, it's bringing it all back to the surface…

"'The name Jim Jones comes to mind,' Handville said of [church leader Joseph] Irwin, referring to the founder and leader of the Peoples Temple, best known for the mass murder-suicide in November 1978 of 909 of its members in Jonestown, Guyana."
District: Movie plot like Jonestown massacre inspired suicide pact
KATU.com, Portland, Oregon, February 27, 2015
A movie with a plot line similar to the 1978 Jonestown massacre allegedly inspired a suicide pact among upwards of 20 students, according to a district official of the Calapooia Middle School in Albany, Oregon which the students attended. The list of students was started by one who apparently got the idea from the 2013 movie The Sacrament about a mass suicide at a commune, a storyline that resembles the real-world massacre at Jonestown in 1978, district spokesperson Jim Haggart said.
Representative Jackie Speier Wants the CIA to Apologize for Enhanced Interrogation
by Jeannie DeAngelis, December 16, 2014, American Thinker
As part of its criticism of Rep. Jackie Speier for her opposition to the CIA's role in "enhanced interrogation," the conservative journal American Thinker  quotes some of the positive observations Ms. Speier had about the Jonestown community when she first arrived in the company of Rep. Leo Ryan. "So for all intents and purposes, what Jackie and the team initially witnessed in Jonestown seemed positive and constructive sort of like liberalism," the journal says. The article does include the fact that Ms. Speier was shot five times on the Port Kaituma tarmac during the attack that killed her boss and four others, and opines that that is "significant, because lately the congresswoman has made some comments that make one wonder how a person who witnessed such intense brainwashing firsthand doesn't recognize how a similar indoctrination influences her progressive point of view. When it comes to abortion, gay marriage and the like, it's obvious Speier regularly knocks back the liberal Kool-Aid."
Jonestown in Guyana News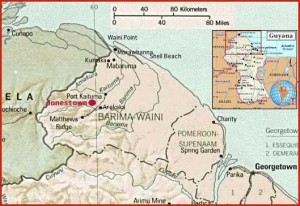 The choice of the Northwest District of Guyana for the location of Jonestown was not an accident, either for Jones or for the Guyana government as personified by Forbes Burnham. For Jones, he got Cuba-lite – a quasi-socialist government in a Caribbean country – which had the added advantages of having a large black population and being English speaking; in addition, the Northwest District was more isolated than the country's population centers along the Caribbean coast. As long as he could serve as a model of development in the hinterland for Burnham, he would be welcomed.
The plus for Burnham was that the placement of Jonestown there put Americans in an area that both Guyana and Venezuela have laid claim to for more than 100 years. The border has often been drawn with a pencil, erased and redrawn depending upon the results of the latest raid. But — outside of the two countries — who cared about a border dispute over thousands of square miles of virgin jungle? Burnham wanted to make somebody care, and he wanted that somebody to be the US, and, as The Washington Post pointed out in a July 2015 story, what better way than to put a religious colony of 1000 Americans in harm's way of Venezuela's next foray. Guyana's antagonist might think twice about launching the next border skirmish, Burnham reasoned, if the result had the potential to come to the attention of a U.S. president.
Thirty-seven years later, those concerns no longer govern the dispute, especially since an oil deposit has been discovered on the Guyana side of the border, and according to press reports in iNewsGuyana and The New York Times, the Venezuelan government – under the leadership of President Nicolas Maduro – has vowed to take control of two-thirds of Guyana, including all of the Northwest District.
"We are going to take back what our grandparents left for us," Maduro told his country last week. He asked U.N. General Secretary Ban Ki-moon to provide a new round of international arbitration, while promising "a great victory" over Guyana "by peaceful means."
Maduro has assigned a retired army colonel, Pompeyo Torrealba, to lead a newly formed government agency, the "Essequibo Rescue Office," whose plans include issuing 200,000 Venezuelan identification cards to the Guyanese living in the area.
Despite the scope of the threat – and the fact that it comes from the U.S.' greatest antagonist on the South American continent – it has received little public attention in Washington.
Originally posted on October 27th, 2015.
Last modified on December 29th, 2021.