I'm back in Chicago working on a production about the tragedy of the 2010 British Petroleum (BP) oil spill. The last time that I was here was in 2005, when I directed a production about another tragedy – The People's Temple – at American Theater Company.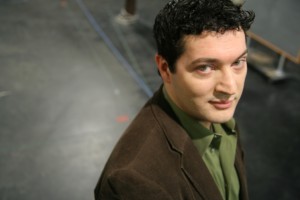 This past May, I got a call from ATC to let me know that their artistic director, PJ Paparelli, who had been a huge advocate of The People's Temple and the Temple's story, had died in a tragic accident while on vacation in Scotland. A memorial service was planned for later in the summer. He was only 40 years old.
I attended his memorial in Chicago in late July along with hundreds of other people. Many rose to speak about PJ and his work, and to reflect on what his legacy might be. The service was very touching, yet the predominant feeling in the room was one of disbelief, as if at any moment PJ himself would burst out onto the stage, and shout, "Just kidding!" He was that kind of guy: a brilliant artist, but a man who was a jokester, full of life and endless energy. He was a serious artist, but also a comedian who loved to laugh. None of us could believe that he was actually gone.
All throughout his career, PJ was interested in the stories of the underdogs in our society. He fell in love with Peoples Temple from the moment he had contact with our play and had fought to bring it to Chicago.
At his memorial, American Theater Company's youth ensemble sang, "Walk a mile in my shoes," in exquisite harmony. There were no instruments, just the voices and the passion of these young people. PJ was a father figure to many of them and a mentor to them all. I know that I wasn't the only one in the audience whose body vibrated with energy when the first boy, a very handsome young Latino performer, stepped forward and began to sing, "If I could be you, if you could be me, just for an hour." For many, the song provided a much needed catharsis to the evening.
All anyone knew about PJ's death prior to the memorial was that he had been struck by a car while vacationing in Scotland. I knew that his work was always on his mind, and recall thinking, "Gosh, I hope that he wasn't on his phone and distracted." He was a workaholic, but in the best sense of the word, since he absolutely loved what he did.
It was at the memorial that we learned what had happened, that he had been riding along a country road when some baby sheep walked out in front of the car. PJ stepped out of hs car to assist the lambs when he was struck by a car traveling in the opposite direction, one driven by an older man with poor eyesight. We were all left with this image of PJ, probably laughing at the absurdity of his situation, helping these cute, defenseless beings to safety.
PJ grew up in Scranton, Pennsylvania to working class Catholic parents. He knew from a young age that he was gay. He also knew from a young age that he wanted to be an artist. He left his small town to attend Carnegie Mellon University in Pittsburgh, one of the most prestigious drama schools in the country. He then moved to Washington, D.C. where he "cut his teeth" as a young director, then moved to Juneau, Alaska where he ran a small theater there, and then on to his position with ATC in Chicago, where he established deep roots. His work touched many, many lives and was held in very high esteem in the Chicago community. His work was impeccable, and his personality quite infectious. PJ was the kind of person who would never elicit a neutral response from people! You either loved him, hated him, or maybe both. PJ and I were like brother and sister to one another. We had our good moments together and our trying ones, but we had a shared vision of the great possibility of art to be a healing force in the world, and that was what kept us most connected to each other.
His mother got up at the end of the memorial service and, fighting back tears, said, "I feel as if I just met my son tonight. Thank you for telling me who my son was. I had no idea. I didn't realize how many lives he had touched." Her words affected me deeply and led me to reflect on my own life. As queers and as artists, it is often crucial to our survival that we leave our small towns and make our way to the nearest city. We go out in search of our "own kind," the community that will allow us to be our most authentic selves and that will ultimately become our chosen family. I was also struck by how similar this was to how many felt when they found Peoples Temple: that they had "come home," that they had found their people, their community, their true family.
I will miss PJ. I will miss his work in the world. He had many, many, many more artistic projects in him, and the world will never know all the schemes and plans that he had yet to cook up. His life was tragically cut short, but his contribution was significant. I am grateful for the time that we shared with him, grateful for his advocacy of The People's Temple here in Chicago, and grateful for his great and awesome respect for the stories of the people who died in Jonestown, and the stories of those who survived. He treated them all with the utmost passion and honor.
God bless you, PJ. Rest in peace.
(Leigh Fondakowski is the writer and director of the play, The People's Temple, and the author of the book, Stories from Jonestown. Her writings for this website are here. She can be contacted through this website.)
Originally posted on October 30th, 2015.