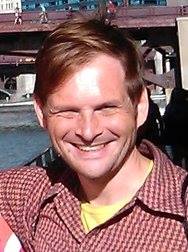 David Mihalyfy Mihalyfy received his Ph.D. in the History of Christianity in 2017 from the University of Chicago Divinity School. His academic interests include New Religious Movements, the history of religion in America, and the history of Christian biblical interpretation. He has taught social science classes at the School of the Art Institute of Chicago, and freshman writing at the University of Chicago. His writing on higher education reform and his workplace unionization activism has led him to seek public office as an alderman in Chicago in the 2019 election.
Mr. Mihalyfy may be reached here.
Synthetic Study of Post-WWII American Left is Needed, Possibilities for Study of Peoples Temple (2018)

NRM Teaching Challenges: Reflections on Combatting Dehumanization (2015)

New Religious Movements: Myths and Reality (2015)

NRM Teaching Challenges: Thinking Along with Peoples Temple Survivors (2014)
Originally posted on November 10th, 2015.
Last modified on October 16th, 2019.