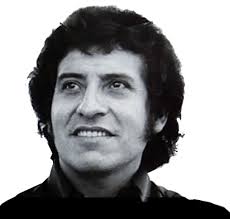 Victor Jara was an icon for Peoples Temple and especially for Jim Jones.
A popular poet and songwriter in Chile beginning in the 1950s, Jara gravitated a decade later towards works with political and social themes that brought attention to the hardships of the working classes of his country. His activism led him to support the Popular Unity party of the socialist politician Salvador Allende, and his song "Venceremos" became the theme song to Allende's successful run for the country's presidency in 1970. During the military coup of September 11, 1973 that toppled Allende – a coup that was supported by the United States – Jara was arrested and detained at a large soccer stadium, along with thousands of other Chilean activists. There he was tortured, with bones in his fingers and on his face broken with a rifle butt, and eventually died on September 17, when, according to his autopsy report, he was shot 44 times.
Jara's courage and resistance provided an inspiration for Jim Jones of how fascism can and should be resisted, even unto death. But the circumstances of the poet's death were apparently not sufficiently gruesome for Jones, who on various occasions claimed that Jara's fingernails were pulled out, that his eyes were gouged out, or – according to one particular gory rumor which Jones appropriated as truth – that he played his guitar before his comrades in the National Stadium even as his fingers and hands were being cut off, and that he continued to sing until he was finally killed. One edition of the Peoples Forum newspaper even includes a graphic drawing depicting Jara with his hands cut off.
The music of Victor Jara also served Jones in one other respect: the Temple leader did not enjoy the funk, R&B and soul music of the 1960's and 1970's, which so many of his youthful followers brought in the forms of tapes into the jungle community. He begrudgingly allowed the popular American music to be performed, but wondered why people didn't want to play the music of socialist martyrs – like Victor Jara – more often than they did.
Originally posted on December 18th, 2015.