(Jennifer Kathleen Gibbons is an MFA Writing and Publishing candidate at Vermont College of Fine Arts and a regular contributor to the jonestown report. Her previous articles are here.)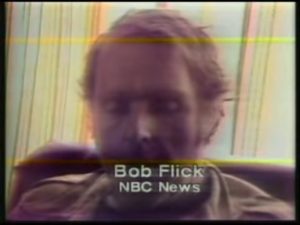 It was a routine story for Bob Flick: go with his news crew to the middle of a Guyanese jungle and talk to the Americans who lived there. They were in some type of cult called Peoples Temple, headed by a man who wore dark sunglasses all the time. Flick had seen worse. He'd covered the riots in Watts and Berkeley. He'd covered the 1976 kidnapping of a school busload of children and their driver in Chowchilla. Some cult? This was nothing. Plus, it was a break from covering Patty Hearst all the damned time.
All the reporters wore some type of trademark: Charles Krause was known for wearing Jordache jeans. Tim Reiterman and Greg Robinson both had Burt Reynolds-like mustaches. Don Harris had his sideburns and looked like Clint Eastwood. Bob Flick sported a white cap. He wore it when he watched Jim Jones awkwardly hug Dale Parks after Parks said he and his family were leaving. He watched Harris confront Jones with a note from Vern Gosney, asking for help to leave.
There was a story here. There must be. Everything was too rehearsed, too perfect. And more drama was unfolding. Mara Katsaris took the cross her father wanted to give her and threw it back at her brother. Jonestown resident Bonnie Simon protested her husband and father-in-law were taking away her children.
It was getting darker. Flick got on the truck that took the group of journalists, relatives of Jonestown residents, and defectors to the Port Kaituma airstrip. It had rained, but the weather was clear when they arrived at the strip. People were already boarding the airplane.
Then another truck appeared from the distance. It was full of men and boys. They had guns. Soon the guns would be fired. NBC soundman Steve Sung would later say it sounded like popping noises. Bob Brown – Sung's cameraman – kept on filming until he was shot, and even then, his camera kept rolling. Jackie Speier – then an aide to Leo Ryan, now a U.S. Representative filling her boss' old seat –would tell The Los Angeles Times that Flick was at the nose of the airplane before he did a combination of running, diving, and "just rolling away." His quick thinking worked: he survived.
The survivors scattered. Some ended in the jungle. Vern Gosney cried in anguish; not only was he shot, but he had left his young son in Jonestown. Others went to a local rum shop. Lying on the tarmac, too seriously wounded to move, Speier heard Steve Sung say, "Hang in there, Jackie baby, hang in there." Flick stayed by Speier that long night, giving her Guyanese rum. Reporter Ron Javers would later write for the AP about Flick's bravery: "I don't think he would have moved if a tank came down that airstrip."
Sixteen hours after the initial attack, the Guyanese forces finally came. While some expressed concern about going to Georgetown or even leaving, Flick and several others were flown to Puerto Rico, where he gave interviews to the press. He looked shell-shocked, smoking cigarettes, talking about what he saw on the airstrip. Reporter and friend Joe Saltzman told NBC Los Angeles that Flick later suffered depression and guilt that he couldn't save his colleagues' lives.
He couldn't do hard news after that – it was too much – so he and another reporter decided to produce a new show: Entertainment Tonight. In an odd way, it made sense. In the world of entertainment, sad things happened. But look! Burt Reynolds has a new movie out! Are Krystle and Alexis going to have another cat fight this week on Dynasty? For every light, fluffy story, there were sad ones. The show did extensive coverage of John Belushi's death and drug use in Hollywood. They covered the trial of Erin Fleming, Groucho Marx's companion, who was sued by Bank of America to pay back money she allegedly took from Marx's estate. One week they did a tribute to Ed Sullivan and his legendary guests. Another week they profiled gossip columnists from the thirties and forties. The show became more gossipy and sensational as the years went by, especially during the OJ Simpson trial. But it was enough for Flick, who retired from the show in 1997.
Robert Flick died in January of this year after sustaining a fall. Obituaries remembered his years as a reporter and a producer. He never won a medal for his bravery that November night in 1978. I like to think of him as the Cowardly Lion in The Wizard of Oz who defended his friends and tried to saved them against the dark forces around them. In the end, both the Lion and Flick became known for something important: Courage.
Originally posted on September 21st, 2016.
Last modified on October 14th, 2016.