Frank Bell was born on August 13, 1940, in San Francisco, California. He died in San Mateo County, California, on February 25, 2016. He was a beloved husband, father, friend and colleague in the local criminal defense bar.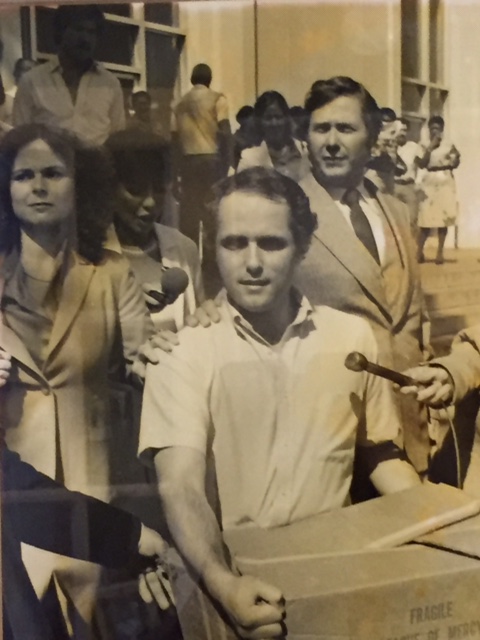 One of his clients was Larry Layton, who was charged with conspiring to kill Congressman Leo Ryan, and Richard Dwyer, the Deputy Chief of Mission of the U.S. Embassy in Guyana, on November 18, 1978. Those two were shot, not by Larry, but by members of Peoples Temple who arrived at the Port Kaituma airstrip and fired upon the congressional party as they prepared to board two aircraft to take them all to safety. The assault left five people dead, including Ryan. Dwyer was among the dozen who were wounded. Also wounded were Monica Bagby and Vern Gosney, whom Larry did shoot inside one of the small planes at the airstrip as the other assault took place. Fortunately, both Bagby and Gosney survived. Larry stood trial in Guyana for this incident and was acquitted.
The events in Jonestown and Port Kaituma, and the story of Peoples Temple, are now integrally woven into the history of San Francisco. This is particularly so because just nine days later, former Supervisor Dan White killed Mayor George Moscone and Supervisor Harvey Milk, the nation's first openly gay elected official, at City Hall. These events brought great sorrow and a deep sense of loss to the city.
In 1980, Frank was the Chief Assistant Federal Public Defender, when he and Tony Tamburello were appointed by Judge Robert F. Peckham of the U.S. District Court for the Northern District of California, in San Francisco, to represent Larry Layton, who had been extradited to the U.S. to stand trial following his acquittal in Guyana. Judge Peckham wanted to make sure that Larry received the best representation possible, and was concerned about the community reaction to the case. This is why Frank and Tony were selected to represent Larry. Frank and Tony were joined in their defense of Larry by newly-minted attorney, Marianne Bachers, the junior attorney on the defense team.
Frank was very highly regarded in federal court. He was a brilliant, compassionate, tenacious lawyer who was absolutely dedicated to Larry and to his defense. Frank's deep caring for Larry, his deft understanding of, and compassion for, the highly complex nature of the case and all of people involved in it, all contributed the success of the trial. The jury eventually was unable to reach a verdict, with 11 jurors voting for an acquittal, and only one juror holding out in favor of Larry's guilt. Soon thereafter, Larry was released from jail and was reunited with his family.
When Larry was retried in 1986, radical religious terrorists had begun attacks across the world. The recollections of Peoples Temple and Jonestown had faded. The government also altered its argument on the evidence presented at Larry's second trial, and he was convicted.
Frank, however, remained committed to Larry. Along with the assistance of many survivors, Larry's family, and especially Vern Gosney – whom Larry had wounded – Frank finally obtained Larry's freedom from prison in 2002. By that time, he had spent years fighting for Larry's freedom, trying to obtain a pardon for him and then eventually convincing the U.S. Parole Commission to order his release. Obtaining Larry's freedom was the fulfillment of a promise Frank undertook in 1980: to defend Larry to the best of his ability.
Frank's work on Larry's behalf remains a shining example and inspiration to Tony Tamburello and me, and to those who witnessed his historic defense of Larry Layton. We miss him, seeing him work in court, and most of all, our friendship with an amazing, deeply caring man.
(Larry Layton and Peoples Temple: Twenty-Five Years Later, an article by Frank Bell, appeared in the 2003 edition of the jonestown report.)
Originally posted on October 14th, 2016.
Last modified on January 6th, 2017.