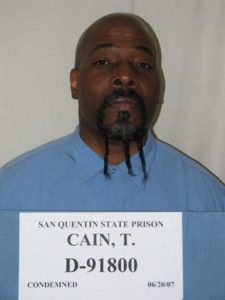 Several men related to former members of Peoples Temple are currently incarcerated. All would appreciate letters of support and encouragement. Contact Leslie Wagner-Wilson for their addresses.
Tracy Cain, son of Ruthie Mae Cain, who died in Jonestown, has been on California's Death Row since 1988. The decision of the California Supreme Court affirming his conviction – which includes a full description of his case and its legal proceedings – appears on the Justia.com website as well as the Stanford Law School website. In one of his first acts as governor of California, Gavin Newsom suspended the use of the death penalty in March 2019. All former death row inmates, including Cain, remain incarcerated.
Chad Rhodes, the son whom Juanita Bogue was carrying in utero when she left Jonestown with Congressman Ryan on November 18, is in a California prison serving a term of life imprisonment without possibility of parole. The story of his 1999 arrest for the killing of an Oakland police officer appears on the SFGate website. The California Court of Appeal decision affirming his conviction appears at the Caselaw.Findlaw.com website. A February 22, 2005 news story about the decision appears here and was republished on this site.
Jakari Wilson, who – at three years old – became the youngest survivor of Jonestown, when his mother, Leslie Wagner-Wilson left with seven others on the "picnic" on November 18, was sentenced to prison in 2012 in California. The decision affirming his sentence is here. Leslie's article about her son's incarceration appears here.
Originally posted on October 1st, 2017.
Last modified on September 16th, 2022.