Remembering Paul Flowers
by Laura Johnston Kohl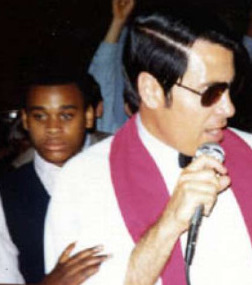 I knew Paul Flowers in Peoples Temple, but I have not seen him over these last many years. Paul was a wonderful person. He was likely every mother's role model for her children. Paul was a no-nonsense kind of person. He took his work and his many responsibilities seriously, both in San Francisco and in Los Angeles. He was fun and funny, even hilarious, and very engaging. He never got caught up in drama around him, but rather always seemed to sail through and have more important things to do and think about. He could be serious about problems or events, and then work out a way to manage and solve them. He was always inclusive and warm. Over the years I knew him, I never saw him be anything but courteous and kind. He had such a generous spirit!
My love goes out to his sister Lena, and the rest of his family and friends.
(Laura Johnston Kohl is a Jonestown survivor and a regular contributor to the jonestown report. She edited this volume's special section on Jonestown from Guyanese Perspectives  and wrote the Introduction. Her other articles in this edition of the jonestown report are Change and the Chameleon That Was Jim Jones; What Does it Mean to be a "Survivor"?; and Only the Survivor Activists "Get" Me. A second remembrance is for Tchaiko Kwayana. Her collected works may be found here. Laura may be reached at ljohnstonkohl@gmail.com.)
Originally posted on October 1st, 2017.
Last modified on October 25th, 2017.