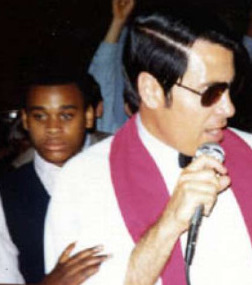 I knew Paul Flowers in Peoples Temple, but I have not seen him over these last many years. Paul was a wonderful person. He was likely every mother's role model for her children. Paul was a no-nonsense kind of person. He took his work and his many responsibilities seriously, both in San Francisco and in Los Angeles. He was fun and funny, even hilarious, and very engaging. He never got caught up in drama around him, but rather always seemed to sail through and have more important things to do and think about. He could be serious about problems or events, and then work out a way to manage and solve them. He was always inclusive and warm. Over the years I knew him, I never saw him be anything but courteous and kind. He had such a generous spirit!
My love goes out to his sister Lena, and the rest of his family and friends.
(Laura Johnston Kohl, who had lived in Jonestown but was working in Georgetown on 18 November, died on 19 November 2019 after a long battle with cancer. She was 72. Her writings for this website appear here.)
Originally posted on October 1st, 2017.
Last modified on November 20th, 2019.