Previously Unprocessed Materials and Supporting Collections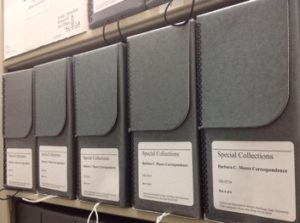 The Letters of Barbara C. Moore
In the last issue of the jonestown report, (Volume 18, Nov. 2016) SDSU Special Collections reported acquiring the voluminous correspondence of Barbara Ann Covington Moore (1922-2004). Barbara was the mother of Rebecca Moore, professor emerita of Religious Studies at San Diego State, and of Ann Moore and Carolyn Moore Layton, both members of Peoples Temple who died in the mass suicide/murder at the Peoples Temple Agricultural Project in Guyana in 1978. The correspondence is nearly entirely with daughter Rebecca, who gifted the collection in early 2016. It contains more than 900 handwritten letters spanning a period of more than thirty years, between 1968, when Rebecca left home for college, and 2001, when Barbara moved to a retirement center in Sacramento prior to moving to San Diego.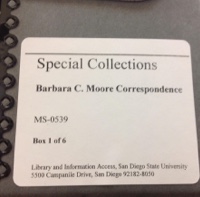 Special Collections is pleased to report that the Barbara C. Moore Correspondence Collection is now fully processed (above & right). Included in the collection are 313 letters printed from scans of originals held by the California Historical Society, which graciously loaned them to Special Collections for digitization. Together with 81 letters Barbara wrote to her brother Bob Covington, the collection totals 1,222 letters.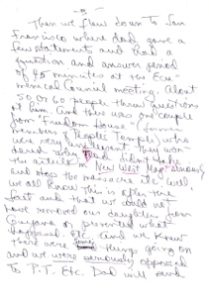 Significant enough because of the sheer number of letters written over three decades, the Barbara C. Moore collection has added significance in relation to the letters in the Papers of Rebecca Moore, also held in Special Collections. Barbara's collection contains a number of letters from 1979, following Jonestown, which are of particular interest, since the Correspondence series in Rebecca Moore's collection includes letters written in 1979 to her parents in the wake of the Jonestown tragedy. A page from a Jan. 29, 1979 letter from Barbara is shown here (left).
Newspaper coverage of the Jonestown Tragedy
A 2017 gift from the Jonestown Institute included a large selection of clippings from newspapers published before and after the events on November 18, 1978. Special Collections has scanned the clippings and made available a list of the digitized newspaper and magazine articles.
The list is organized alphabetically by publication title and chronologically within each title. Most of the materials were published in the United States, with a large number being local to San Francisco and surrounding areas. Articles range in date from July 1978 to November 1988, with the majority being published in the year immediately following November 18, 1978. PDF scans of these news clippings are available by request. (Below: SF Examiner: Dec. 3, 1978)
Margaret Singer Tape Recordings
Special Collections has digitized 59 assorted recordings collected by psychologist Margaret Thaler Singer (1921–2003), a renowned expert in the subject of mind control. Singer became interested in Peoples Temple shortly before the deaths in Jonestown in November 1978. She was asked to work with former Temple members at the Human Freedom Center, an organization established to help people leave the Temple. Most of the tapes in the Margaret Singer collection comprise shortwave radio conversations between Peoples Temple members in Jonestown, Georgetown, and San Francisco. These tapes were made by members of the Concerned Relatives, an oppositional group that met informally in 1976 and became more organized in 1977.
The digitized recordings are accessible at the Peoples Temple Collection finding aid in Series 2: Audiovisual Materials, Sub-Series 1: Audio Cassette Tapes. The Singer audio tapes begin in Box 26 of the finding aid.
To understand these secret radio messages it will be helpful to have the "Peoples Temple Code Book" handy.
For more complete biographical information on Margaret Singer, click here.
Serial Killer Culture TV Highlights Peoples Temple and the Jonestown Exhibit at SDSU
Season 1 (2017) of the episodic TV show Serial Killer Culture TV featured Laura Johnston Kohl and Robert Ray in a chapter of the show titled "Jonestown Survivor." Laura discussed her surviving the Jonestown Massacre, and Rob discussed the "Peoples Temple at Jonestown" exhibit at San Diego State University. Laura is a well-known contributor to the jonestown report, and Rob reported on the Jonestown exhibit both in Vol. 18 (Nov. 2016) and Vol. 17 (Nov. 2015).
Books and other Publications about Peoples Temple and Jonestown
In 2016-17, Special Collections received a generous gift of numerous books and other publications about Peoples Temple and Jonestown, donated by Dr. Rebecca Moore and the Jonestown Institute.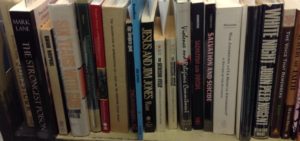 Shown here are some of the many published works in this rich collection of secondary references and resources. They will soon be cataloged to join over 70 additional published works on Peoples Temple and Jonestown currently held in the San Diego State University Library.
(Robert Ray is head of Special Collections at San Diego State University Library. He can be reached at robert.ray@sdsu.edu.)
Originally posted on October 30th, 2017.
Last modified on February 1st, 2023.