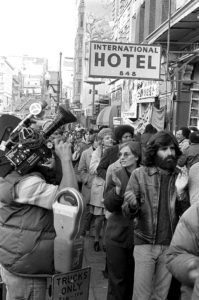 In 1983, nearly five years after the tragic deaths of 914 Peoples Temple members in Jonestown, Port Kaituma, and Georgetown, Guyana, the California and Guyana courts transferred more than 100 cartons of Temple records to the California Historical Society (CHS) archives. Robert H. Fabian, the court-appointed receiver, had gathered these records in his efforts to identify and locate all of the Temple's assets – assets that were scattered throughout California and Guyana, but also as far away as Venezuela and Switzerland – and settle more than 750 claims which arose from the events of November 18, 1978. This collection of Peoples Temple records, consisting of photographs, news clippings, organizational documents, financial records, court transcripts, official and personal correspondence, ephemera, and issues of Peoples Forum, has been meticulously cataloged and preserved, and is available for use in the North Baker Research Library at CHS.
Since 1983, additional donations of Peoples Temple materials have come from a wide variety of sources, including Ross E. Case, a former pastor with Peoples Temple; John R. Hall, author of Gone from the Promised Land: Jonestown in American Cultural History; and Donneter Lane, the Executive Director of the San Francisco Council of Churches who coordinated the efforts of the Guyana Emergency Relief Committee to bring many of the bodies of the Jonestown dead back to California. CHS is particularly grateful for the donations of personal correspondence and artifacts from former Peoples Temple members and their families and friends. Together, these collections make up some of the most heavily-used research materials in the CHS archives.
In 2010, CHS received a donation of records created by the Publications Department of Peoples Temple. The collection is vast, comprising approximately 7,700 black-and-white 35mm negative strips; 6,700 color slides; 1,100 photographic prints; and 21,000 individual contact prints – in total, over 50,000 images of Peoples Temple, the majority of which have never been viewed by the public. These photographs were created or collected by Peoples Temple members in order to support the Temple's public relations efforts, including the publication of the Peoples Forum newspaper. They provide an extraordinary visual record of the organization's political, religious, and cooperative activities. As the fortieth anniversary of 1978 approaches, making the Publications Department records accessible to the public is one of CHS highest collection priorities.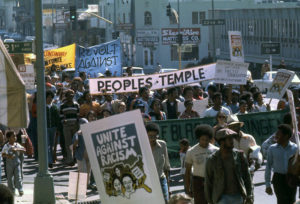 The Publication Department records also include 43 film and video recordings of Peoples Temple in the United States and Guyana. These home-made films, never before seen, provide a rare glimpse into the everyday lives of Peoples Temple members in the United States and Guyana. To begin our work on the collection, we have preserved and digitized these moving and poignant films, to make them available for all to see. Thanks to the California Audiovisual Preservation Project, 38 of these films have been carefully preserved and transferred to digital, and can now be seen via the Internet Archive.
It took more than six months for CHS staff to complete a detailed inventory of the photographs; noting where and when each slide and negative was taken, its condition, and what would be required to ensure its long-term survival. This inventory, completed in 2016, enabled CHS to apply for grants from the National Endowment for the Humanities and the National Historical Publications and Records Commission. Grant funds would support the salary of an additional archivist for a one-year term, provide all of the archival supplies needed to safely store and preserve the collection, and enable CHS to digitize 5000 images from the collection, making this very rare and important collection publicly accessible.
As the Peoples Temple Collection continues to grow, we welcome donations from former Peoples Temple members and their families, as well as from journalists, scholars, and others. To inquire about a possible donation, please contact Marie Silva, Archivist & Manuscripts Librarian, at 415-357-1848 x 228, or by email at msilva@calhist.org.
If you have any questions about Peoples Temple materials at the California Historical Society, or would like to arrange a time to visit, please contact Frances Kaplan, reference librarian, at 415-357-1848 x 225, or by email at fkaplan@calhist.org.
– Chela Scot Weber, Library Director; Marie Silva, Archivist & Manuscripts Librarian; and Frances Kaplan, Reference Librarian.
Originally posted on October 30th, 2017.