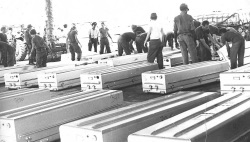 Most of the bodies of the people who died in the Guyana tragedy of November 1978 were transported to Dover Air Force Base in Delaware for identification and notification of next-of-kin. Within a month, about 600 of the bodies had been identified, and families were able to make funeral arrangements. Some relatives could not be located, and others declined to assume custody of their dead. In addition, nearly 300 people – mostly children, whose medical and dental records were minimal or non-existent – were never identified. In May 1979, the Guyana Emergency Relief Committee, an ad hoc group formed by the San Francisco Council of Churches, arranged to have 409 of the Jonestown dead transported across the country and buried in a mass grave at Evergreen Cemetery.
This page lists the people who died in Guyana on November 18, 1978, and where they are buried. It makes several presumptions – the principal one being that those who were not identified by April 1979 are presumed to be at Evergreen – although we have been able to confirm the burial locations of many of the others.
This research has led to one important conclusion, and that is the answer to the question of who is buried in the mass grave at Evergreen. There were 409 bodies interred there in the late spring of 1979. After subtracting the number of people who were buried in Evergreen in later years, as well as those who were cremated and placed in a community niche at the cemetery, the number of Evergreen burials in 1979 is 414. Even this number may be slightly inflated, since it includes three people for whom there are conflicting records. As a result, we can say with almost complete certainty that anyone listed as being at Evergreen is in fact actually there.
Nevertheless, we ask that anyone who has additional information to write to us so that we may update this page.
Burial Sites and Body Identification Numbers of the Jonestown Dead
Excel
PDF
We relied upon several sources for the information on this page. They include:
RYMUR 89-4286, Serial 1730 was the FBI's principal listing of 587 bodies identified by fingerprints and other means. Supplemental identifications were made at the serials 1847, 1869, 1871, 1880, 1934, 2013, 2049, 2065, and 2102:
RYMUR 89-4286, Serial 1730
PDF
Text

RYMUR 89-4286, Serial 1847
PDF
Text

RYMUR 89-4286, Serial 1869
PDF
Text

RYMUR 89-4286, Serial 1871
PDF
Text

RYMUR 89-4286, Serial 1880
PDF
Text

RYMUR 89-4286, Serial 1934
PDF
Text

RYMUR 89-4286, Serial 2013
PDF
Text

RYMUR 89-4286, Serial 2049
PDF
Text

RYMUR 89-4286, Serial 2065
PDF
Text
Additional identifications were revealed at FBI document Bulky 1730, Box 1, Section 8. The date at its head of "11/23/79" is likely in error; given that many dental records were submitted in January, the date is much more likely to be "1/23/79."
The Assassination of Representative Leo J. Ryan and the Jonestown, Guyana Tragedy: Report of a Staff Investigative Group to the Committee on Foreign Affairs, U.S. House of Representatives included a listing of people who had been identified by December 12, 1979. This 15-page excerpt from the report represents an alphabetical listing of the bodies identified in Serial 1730.
A document developed by this website, with a complete listing of the bodies with their identification numbers – combining the information in the FBI resources into a single place – appears both as an Excel spreadsheet and as a PDF.
Most of the information on this page was researched and produced by Don Beck, and the editors are deeply grateful for his work. His own commentary appears here. Another article – a 1985 essay by Rebecca Moore on the government's handling of the Jonestown dead – is here.
We are also indebted to Natalia Danesi, who logged countless hours on the initial groundwork in uploading names to https://www.findagrave.com/, as well as to the library at the California Historical Society, which continues to open access to their files for research such as this.
Originally posted on April 1st, 2019.
Last modified on August 12th, 2021.