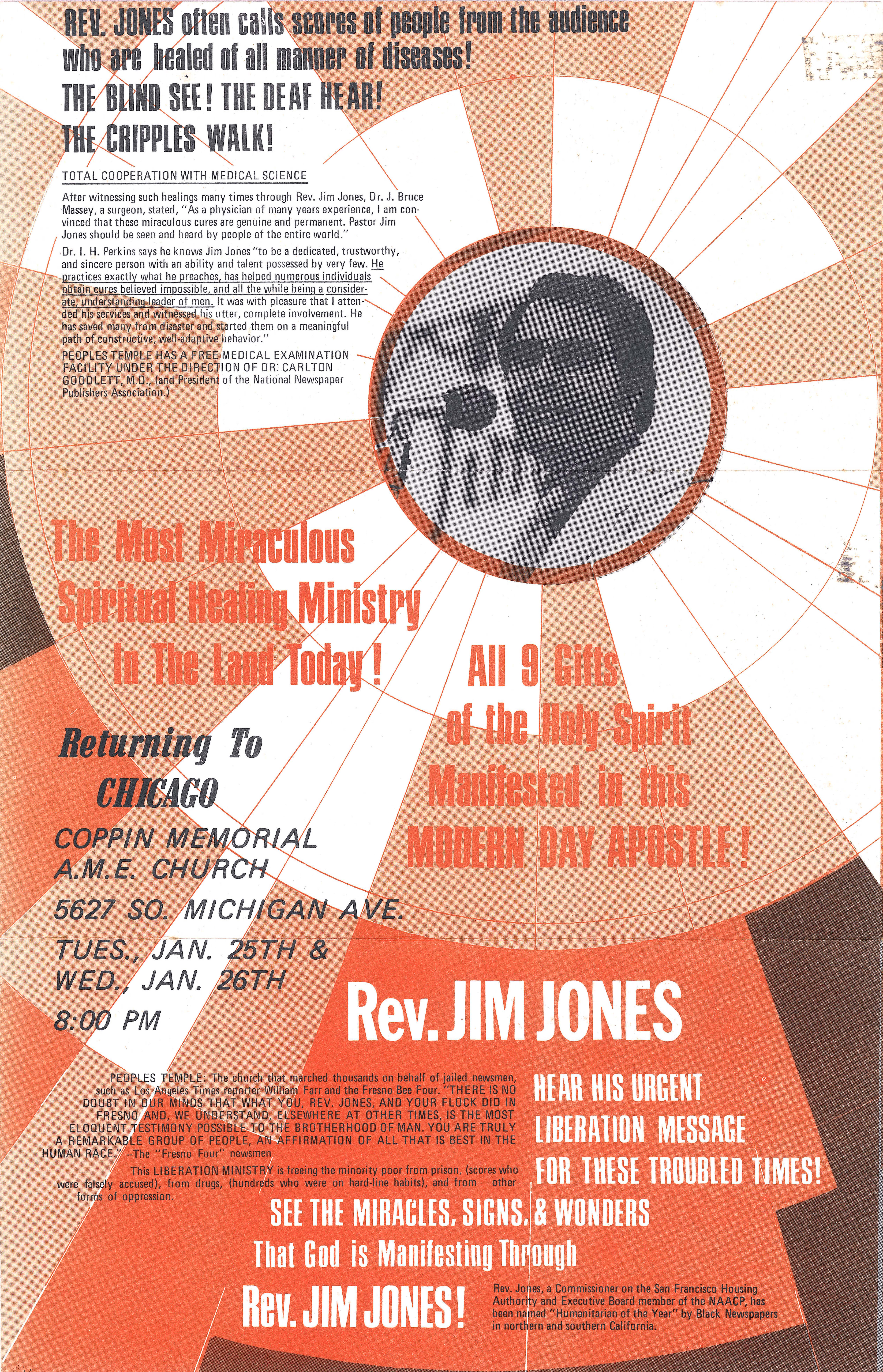 Peoples Temple often took cross-country bus caravans which would stop in various large metropolitan areas, where Jim Jones will deliver the Temple message before congregations of large, mostly black churches.
During such a trip in January 1977, Jones appeared on two nights at the Coppin Memorial AME Church in Chicago. It was advertised with this poster. The text of the poster reads:
REV. JONES often calls scores of people from the audience who are healed of all manner of diseases!

THE BLIND SEE! THE DEAF HEAR! THE CRIPPLES WALK!

Total cooperation with medical science

After witnessing such feelings many times through Rev. Jim Jones, Dr. J. Bruce Massey, a surgeon, stated, "As a physician of many years experience, I am convinced that these miraculous cures are genuine and permanent. Pastor Jim Jones should be seen and heard by people of the entire world."

Dr. I. H. Perkins says he knows Jim Jones "to be a dedicated, trustworthy, and sincere person with an ability and talent possessed by very few. He practices exactly what he preaches, has helped numerous individuals obtain cures believed impossible, and all the while being a considerate, understanding leader of men. It was with pleasure that I attended his services and witnessed his utter, complete involvement. He has saved many from disaster and started them on the meaningful path of constructive, well-adaptive behavior."

PEOPLES TEMPLE HAS A FREE MEDICAL EXAMINATION FACILITY UNDER THE DIRECTION OF DR. CARLTON GOODLETT, M. D. (and President of the National Newspaper Publishers Association.)

The most miraculous spiritual healing ministry in the land today!

All 9 gifts of the Holy Spirit manifested in this modern day apostle!

Returning to CHICAGO
Coppin Memorial A.M.E. Church
5627 S. Michigan Ave.
Tues., Jan 25th & Wed. Jan. 26th 8:00 PM

Rev. Jim Jones

Peoples Temple: The church that marched thousands on behalf of jailed newsmen, such as Los Angeles Times reporter William Farr in the Fresno Bee Four. "THERE IS NO DOUBT IN OUR MINDS THAT WHAT YOU, REV. JONES, AND YOUR FLOCK DID IN FRESNO AND, WE UNDERSTAND, ELSEWHERE AT OTHER TIMES, IS THE MOST ELOQUENT TESTIMONY POSSIBLE OF THE BROTHERHOOD OF MAN. YOU ARE TRULY A REMARKABLE GROUP OF PEOPLE, AND AFFIRMATION OF ALL THAT IS BEST IN THE HUMAN RACE." – The "Fresno Four" newsmen

This LIBERATION MINISTRY is freeing the minority poor from prisons, (scores who were falsely accused), from drugs, (hundreds who were on hard-line habits), and from other forms of oppression.

Rev. Jim Jones

Hear his urgent liberation message for these troubled times! See the miracles, signs, & wonders that God is manifesting through Rev. Jim Jones!

Rev. Jones, a Commissioner on the San Francisco Housing Authority and Executor Board member of the NAACP, has been named "Humanitarian of the Year" by Black Newspapers
Originally posted on January 27th, 2020.