The State Department and Peoples Temple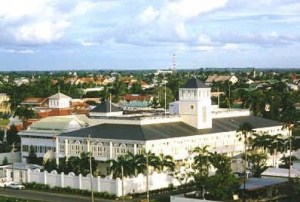 While numerous federal agencies took an interest in Peoples Temple following the deaths in Jonestown, the State Department – and most particularly, the U.S. Embassy in Georgetown, Guyana – had the greatest contact with the organization between 1974 and November 1978, the period of Jonestown's existence. The agency's involvement generated more than 6000 pages of documents.
In 1981, responding to a request under the Freedom of Information Act from Rebecca Moore and Fielding McGehee, who eventually became the managers of this website, State released about 5700 pages. The majority of the documents consisted of  cables between Georgetown and Washington, dating from 1974 until 1981, with most of them from November and December of 1978 and early 1979. In addition to that initial 1981 release, the State Department later released 350 pages under FOIA of agency records on the child custody battle over John Victor Stoen.
The State Department Cables
1974-1977
January – November 1978
The Leo Ryan Trip
The First Week
Late November – December 1978
1979-1981
Prior to the deaths, the Embassy had scores of interactions with Peoples Temple. Most of them came in the form of periodic visits to Jonestown by consular officers, who, among other responsibilities, conducted "Whereabouts and Welfare" checks on Jonestown residents on behalf of their relatives back in the US.  The Embassy was also deeply involved in balancing the efforts of Timothy and Grace Stoen to regain custody over John Victor Stoen, with its responsibility to remain a neutral party in all disputes concerning American citizens living in Guyana. Following November 18, the State Department and its embassy was overwhelmed with its work to repatriate the bodies from Jonestown, to field hundreds of queries from families, the press, and Congress, and to maintain America's relationship with the country of Guyana itself.
Many of the cables – especially those in the 1981 release – contained information which was deleted under an exemption in the Freedom of Information Act. The most commonly-used exemptions by State are:
b(1) = information the release of which would jeopardize national security
b(6) = information the release of which would violate an individual's privacy
In 2014, the State Department released thousands of agency files as part of a general declassification review, including hundreds of cables related to Peoples Temple. They didn't become widely available to the public, however, until 2015 and 2016, when Wikileaks put them online. While the resulting record was neither official nor complete – there are scores of cables that the State Department continues to withhold and that Wikileaks didn't access – the texts that Wikileaks posted are accurate.
Originally posted on February 11th, 2020.