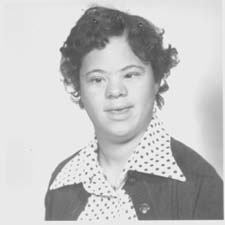 I saw Cynthia's picture today. Just the single photo brings back such mixed emotions.
I feel joy seeing her face because it reminds me of the first time I met her. It was in the 70's at the Bogue home. The Bogues were my legal guardians, and I shared a room with their youngest daughter Marilee. The Pursley family came to visit the home one day, likely because they were looking for a place for her. The Bogues had a board and care home that housed developmentally delayed women.
Cynthia caught my attention because – I thought – she was younger than I. I was surprised learn that she was actually three years older than me. Wow, she seemed like a baby to me.
The two of us became roommates and shared a bedroom for about a year. We got along well. I liked her innocence and her sweetness. Her laughter was precious. I used to crack up teaching her to dance. She liked to sing…
Seeing her picture also saddens me. I can't fathom anyone ever wanting to shut out the light that radiated from her precious soul. She was such a joy to the world. I had no idea she was in Jonestown. All these years, I had assumed she moved to another home after the Bogues went to Jonestown. I would think of her every now and then, and wonder what had become of her. It saddens me to see her here, to know I was wrong.
I shall always remember her for her smile, her laughter, and her awesome innocence. I'm smiling as I write this because I can still remember her dance…
Rest in heaven my friend…
(Glenda Randolph Bates was the sister of Darlene Ramey, who died in Jonestown. Her articles for this site appear here. She died on March 29, 2022 from pancreatic cancer.)
Originally posted on August 2nd, 2020.
Last modified on April 14th, 2022.