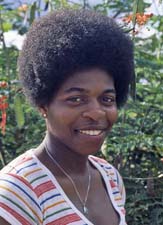 Shirley Smith joined Peoples Temple during its early years in Redwood Valley, California, when she was in her early twenties. Like other African Americans who had moved from San Francisco, Shirley was encouraged to live in integrated housing and soon moved into an apartment with Judy Tow, a young Caucasian Temple member. (Judy was the sister of Karen Tow Layton, who joined Peoples Temple and died in Jonestown). The moves seems to have been a suitable match. The building, which had been a stately old mansion, had been transformed into about six apartments, including one where John Biddulph and I lived. It was located on the corner of Oak Park Avenue in Ukiah. Directly across the street was Trinity School, a Greek Orthodox private school whose owner/headmaster was Father Steven Katsaris. (His daughter Maria Katsaris joined Peoples Temple a few years later and was part of the Jonestown leadership. She too died in Jonestown.)
Shirley was somewhat quiet but presented herself as confident and motivated. She had a radiant smile and made you feel comfortable when you were around her. She was a few years older than some of us who had relocated from San Francisco. She did not hesitate to express her thoughts about things involving the Temple but always spoke in a respectful tone. We were happy to have her for a friend. She was tall and wore an Afro.
She also had a new red car – I think it was a Chevrolet Camaro – and would often give rides to the young people going to Temple services. That was a treat.
Shirley was lucky to have found a job in downtown Ukiah. I was impressed with that. There were very few African Americans in Ukiah, and most businesses didn't make a habit of hiring them, as far as I could tell.
Shirley and Maud Perkins were close friends. They would hang out together whenever Maud came up from San Francisco on the weekend. Even though Shirley appeared to enjoy the Temple, she often seemed to miss her relatives who were not in the church and who still lived in SF. It was frowned upon to have contact with your family members that were not members of the church. I do not remember her having any biological family members in the church. Instead, Maud and her mom, Willie Mae Gentry helped to fill that void for her. The Temple did have plenty of activities to become involved in. Shirley soon found a perfect fit. The Peoples Temple Choir! She had a strong alto voice and soon became a lead singer. Some of her greatest musical contributions were displayed when she would open the services with her powerful rendition of "He's Able." The spiritual emotions would build higher and higher. The audience would be standing on their feet and swaying to her voice and the Temple band.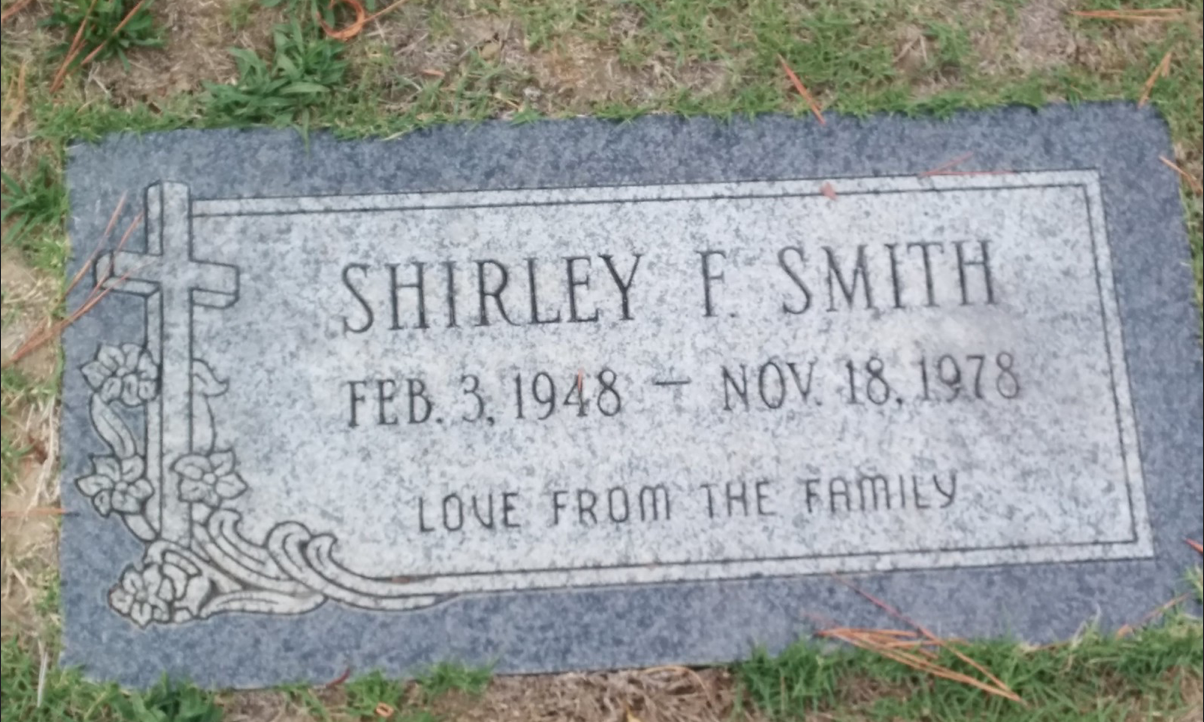 My memory of Shirley Smith is both sweet and sad. I can only hope that she lived with peace.
Rest easy my friend. You are missed.
Shirley perished in Jonestown. She is buried at Evergreen Cemetery. Her family interred her in a grave with its own marker, not far from the site of the larger grave for the unidentified Jonestown dead.
(Vera Washington was among the Eight Revolutionaries who left Peoples Temple in 1973. Her previous articles can be found here. She can be reached at reginav8@yahoo.com.)
Originally posted on September 12th, 2020.
Last modified on December 30th, 2020.