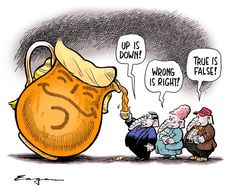 More than forty years after the deaths in Guyana, Peoples Temple and Jonestown continue to make the news on a regular basis.
By far the greatest number of reference to Peoples Temple in the first nine months of 2020 were the innumerable comparisons made in the media between Jim Jones and Donald Trump, as the president seeks re-election. An analysis of the comparisons written by Katherine Hill for the jonestown report appears here.
Tim Stoen runs for political office in Colorado
As the political season got underway in March 2020, Tim Stoen, a former member of Peoples Temple who eventually left to became the leader of the opposition to Jim Jones, dipped his toe into electoral waters with an announcement that he was running as a Democratic candidate for Congress in Colorado's 5th district. He needed 30% of the delegates meeting later that month to secure a place on the June primary ballot, but apparently neither Stoen nor George English met that threshold, since only one candidate – Jillian Freeland – was named in the election results.
It was Stoen's second bid for elective office at the federal level. In 2004, Stoen came in fifth in his bid for the Republican nomination for the U.S. Senate in California.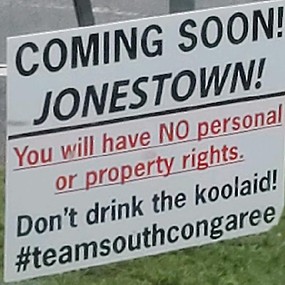 Political signs reference Jonestown
Yard signs that were seemingly directed at Danny Jones, the mayor of South Congaree, South Carolina, raised the ire of many of the town's residents, some who describe the language on the sign as a political dirty trick, while others charge they make a joke of a national tragedy. The signs read: "Coming Soon! Jonestown! You will have no personal or property rights. Don't drink the koolaid!" The mayor had faced criticism over his efforts to force business and mobile home parks to clean up their premises. Mayor Jones, who was running for re-election, was defeated in a June 2020 election.
Jackie Speier Calls Out Republican Congressman over "Cult" Reference
In late October 2019, Rep. Devin Nunes (R-California), the ranking minority member of the House Intelligence committee, blasted the Democratic majority of the committee considering the impeachment of President Trump as acting like a "cult." Appearing on "The Ingraham Angle" on Fox News, Nunes said "So we go behind — we go into the basement every day and things leak out. And it's a bit like watching a cult. It's become a cult."
Within hours, Rep. Jackie Speier (D- California), who sat on the impeachment committee, blasted her colleague. "I know about cults," she wrote in a tweet a few hours after Nunes' remarks. "Cults are led by maniacal narcissists who expect complete adoration and relinquishment of independent thought. I suggest Mr. Nunes look elsewhere." Ms. Speier was seriously wounded at the Port Kaituma airstrip in the attack on November 18, 1978 that killed her then-boss, Rep. Leo Ryan.
Originally posted on September 26th, 2020.
Last modified on October 2nd, 2020.