More than forty years after the deaths in Guyana, Peoples Temple and Jonestown continue to make the news on a regular basis.
• A criminology professor who has been accused of setting several blazes this summer during California's wildfire season, has connections to this website.
Gary Maynard, who has taught in several California universities as well as schools in New York and Tennessee, was arrested in early August. As noted in The New York Times, Maynard "had a particular fascination with the 1978 Jonestown massacre in Guyana." The six articles written by Maynard as described in the Times were all published on this website between 2010 and 2014, although the Times does not mention the site by name.
The story – including the mention of Maynard's interest in Jonestown – was picked up by several other news outlets, including The San Francisco Examiner and InfNews.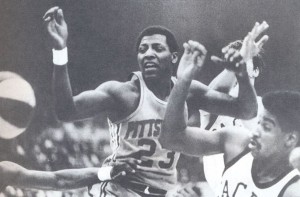 • The rumor than a former National Basketball Association star died in Jonestown has surfaced once again. John Brisker, who played for three seasons for the Pittsburgh Condors in the American Basketball Association before jumping to the NBA's Supersonics for three years, was known as a scrappy – some said violent – player before he was released prior to the 1975-76 season. In early 1978, he boarded a plane to Africa, and was never heard from again. Among the rumors of his fate was that, because he had a great-aunt who on numerous occasions had invited him to join Peoples Temple and who herself died in Jonestown, Bricker died in Jonestown as well. He didn't, but it hasn't stopped stories from reappearing every so often about the possibility. The earliest known such story was from the June 23, 1985 edition of The Pittsburgh Press; the most recent was from the Radar Fresh Intelligence website on August 20, 2021.
It should be noted that there are no Peoples Temple records listing Brisker's name, nor were there any government records created after the deaths that include him on the lists of dead or surviving members.
Politics
In recent years, describing one's political opponent as the next Jim Jones or a political party as an incarnation of Jonestown has become increasingly common, and the practice has only increased with decisions made during the COVID pandemic (as well as the backlash to it).
• Perhaps the most significant example of this were the comments of Christine Todd Whitman, a moderate Republican who served both as governor of New Jersey and as head of the EPA during the Bush Administration. In criticizing her party leaders' effort to overturn the results of the 2020 presidential election based on claims of voter fraud, efforts, she said in December 2020, "GOP support for Trump's attack on American democracy: I keep comparing it somewhat to Jonestown. They've all drunk the Kool-Aid. It just hasn't killed them yet."
She reiterated the comparison in October 2021, when she discussed efforts of "rational Republicans" to reclaim ownership of their party. "Trump's supporters have drunk the Kool-Aid," she said in an interview on NPR's Morning Edition on October 15, 2021. "They're not dying, but they're putting a stake through the heart in our democracy."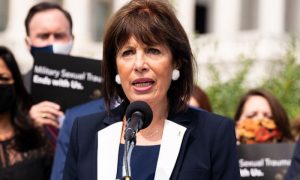 • But the most-publicized example of this occurred in early August when California Congresswoman Jackie Speier – who herself was severely wounded at the Port Kaituma airstrip on November 18, 1978 – appeared on CNN on August 2 to compare Donald Trump to Jim Jones. "You look at Donald Trump, a charismatic leader, who was able to continue to talk in terms that appealed to those who were disaffected, disillusions and who were looking for something, much like those who became part of Jim Jones' congregation, the Peoples Temple," she said. "The only difference between Jim Jones and Donald Trump is the fact that we now have social media."
Coverage of Speier's comparison appeared on numerous other websites, including Forbes Magazine, Newsweek, The Independent, The Huffington Post, and Fox News.
• Earlier in the summer, Rep. Speier compared the January 6 attack on the U.S. Capitol to what happened at the Port Kaituma airstrip on November 18, 1978. In both cases, she says, she found herself lying on the floor, listening to gunshots, wondering if she would come through it. In a video published by ABC News, Speier says, "I thought in that moment, my God I survived Guyana, but I'm not going to survive this in the House of democracy in the country in which I was born."
• Both of her comparisons – the U.S. Capitol attacks to Jonestown, and Trump to Jones – were echoes of statements Ms. Speier made in February, a few weeks after the aborted insurrection.
"Jim Jones was a religious cult leader, Donald Trump is a political cult leader," Speier said in an interview with the Guardian newspaper. "As a victim of violence and of a cult leader, I am sensitive to conduct that smacks of that. We have got to be wary of anyone who can have such control over people that they lose their ability to think independently.
"Donald Trump had a code for talking to these [extremist organizations]," she added. "'There's good people on both sides,' 'We love you,' 'You're special.' He recognized that they were valuable to him, and they recognized that he could amplify their recruiting. It was a toxic brew of personal gain, and it put at risk the entire democracy of this country."
Her remarks were republished in The Hill Reporter and on the RawStory website.
Other examples from 2021 include:
• On two separate occasions shortly after the arrest of Jacob Chansley, known as the QAnon Shaman, for his participation in the January 6 insurrection, his lawyer expressed both his client's disappointment and his sense of betrayal in President Trump. Albert Watkins added that his client "likens the cult of Trump to the Jonestown suicides by more than 900 followers of Peoples Temple leader Jim Jones in 1978 in Guyana."
• The cult of Trump was also the subject of a commentary on a website devoted to clean energy. "[Donald Trump] is the center of a personality cult, much like Jim Jones, David Koresh, and others," George Harvey wrote on CleanTechnica.com in December 2020. "And like them, he has been telling his followers to do things that are self-destructive. In the case of Jim Jones, it was drinking 'kool-ai' laced with cyanide. In the case of Donald Trump, part of it is showing allegiance to the 'Chosen One' by refusing personal protection in the face of a deadly pandemic."
• Shortly after the 2020 presidential election – and with Trump and many of his supporters saying that he was robbed of a victory – the MishTalk website commented that "Trump built his cult followers very much like Jim Jones led 900 members of the Peoples Temple movement to Drink the Kool-Aid and kill themselves in mass suicide.
• In September, Salon political writer Sophia Tesfaye compared the actions of Florida Governor Ron DeSantis and Texas Governor Greg Abbott in banning local mask mandates as evidence "that the GOP's death cult has worked its way down to the children."
• "In order to support and encourage an embittered, delusional old man, a mob of misguided Americans are fighting to expose themselves and their children to a proven deadly virus," columnist Cary Kimmel rote in the September 4 edition of The Lancaster (South Carolina) News. "It is especially frightening that this cultish behavior is encouraged and supported as a movement within a political party… We are now watching Jonestown in slow motion."
• The reference to a slow-motion Jonestown wasn't the first. On August 10, an article on the Politizoom website about political resistance to a vaccination to slow the pandemic was headlined, "With Covid, the GOP Is Literally Engineering a Slo-Mo 'Jonestown.'"
• On January 19, the conservative Hotair.com website warned that the House Republican Conference's decision to oust Rep. Liz Cheney from her position as conference chair because of her vote to impeach former President Donald Trump was "Republican Jonestown." Expanding upon the label, the article added, "Telling Trump he won't be penalized for anything he does is bad enough. Telling everyone else that they will be penalized for criticizing him is full Jonestown."
• Another conservative news site resisted the comparisons. On November 23, 2020 – three weeks after the presidential election and five days after the 43rd anniversary of the Jonestown tragedy – MSNBC commentator Joe Scarborough compared what Donald Trump was doing to the Republican Party – including "People calling in to Rush Limbaugh, saying they're ready to die for Donald Trump." Then Scarborough added, "Really, is this Jonestown?" In response, the Newsbusters.com – under the headline "Morning Jonestown?" – suggested "Perhaps the Morning Joe hosts have a point. Or, more likely, their fixations with burning ships and tragic cult massacres show how removed they were from reality."
• Republicans weren't the only ones to receive the comparisons. In July, a Kentucky state lawmaker likened Dr. Anthony Fauci to Jim Jones, according to a story in the New York Post and later republished on the Gruntstuff website. In a tweet which she deleted within days, State Rep. Regina Huff, posted a photo of Jones with the caption, "I persuaded over 900 individuals to drink my Koolaid." Alongside was a photo of Fauci with the caption, "Amateur." Her reason for taking down tweet was the "vulgarity" in the response, although she also admitted that the meme evaluating Dr. Fauci and Jim Jones was "in all probability too harsh of an analogy."
Dr. Fauci is  the director of the National Institute of Allergy and Infectious Diseases who sometimes clashed with President Trump during the early months of the pandemic.
• There were also comparisons between Peoples Temple and groups with cult-like characteristics. Perhaps the group receiving the greatest number of Jonestown cautionary notes was QAnon, such as in "Cults Often Claim a 'Christian' Connection: Many Pastors Fear that the QAnon Cult is Recruiting Unsuspecting Evangelicals," a February 2 article in the Northeast (Phoenix, Ariz.) Valley News.
Originally posted on October 11th, 2021.
Last modified on January 6th, 2023.