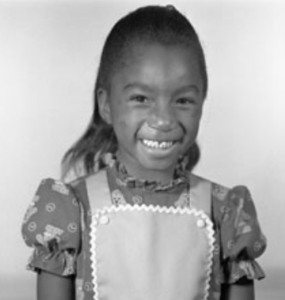 Tina Rayette Christian, 9, was born September 1, 1969 in Houston, Texas. Her parents were Vernetta, 33, and Robert Christian, 31; her brother was Robert II.
I remember the Christians playing an important part in our accommodations and helping in every way they could, when Jim spoke in Houston on a cross-country trip that I went on. Soon after the trip ended, the Christians moved to San Francisco from Texas to become members.
Her family emigrated to Guyana in July 1977. She entered the country with her mother and brother on July 23; her father had arrived three weeks earlier. All died in Jonestown.
Tina was the subject of an item in the March 1, 1978 meeting in Jonestown, after her parents sent a note to Jim complaining that she had been treated too harshly on the Learning Crew. Tina's dad, Rob, said he disagreed with the discipline program. Jim damned him for criticizing the Office. Vernetta admitted she couldn't see the faults of her own child, and gave Tina a spanking. Rob admitted to being arrogant and asked for two weeks on the Learning Crew, which Jim denied.
This confrontation seems to show, first of all, that the Christians, incredibly, were able to maintain closeness as a family in spite of a raft of mandates in contravention of that; and second, that Tina's dad was one hell of a gutsy man.
Tina looks just like her dad; her brother resembles their mother. I see both parents cooperating to deflect, defuse and minimize any blowback from Rob's daring to disagree. After all, he was co-chair of the political enlightenment department, so his criticism had to carry some weight. It would have carried more if he had advanced it in a case where the subject was not his offspring.
(Kathy [Tropp] Barbour joined Peoples Temple in 1970 with her companion, Richard Tropp, and was living in the San Francisco Temple on November 18, 1978. Her earlier writings on this site can be found here.)
Originally posted on October 4th, 2022.
Last modified on October 29th, 2022.