More than forty years after the deaths in Guyana, Peoples Temple and Jonestown continue to offer a context for current news events on a regular basis.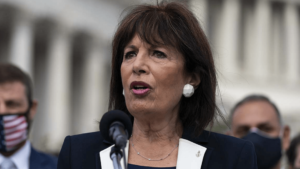 • Rep. Jackie Speier has announced that, after 14 years as a Member of Congress, she would retire from the seat once held by her boss, Rep. Leo Ryan.
Speier was one of two congressional aides who accompanied the congressman to Guyana in November 1978, and was grievously wounded during the shooting at the Port Kaituma airstrip which killed Ryan and four others.
Making the announcement in a short video on November 16, 2021, Speier said, "Forty-three years ago this week, I was lying on an airstrip in the jungles of Guyana with five bullet holes in my body. I vowed that if I survived, I would dedicate my life to public service. I lived, and I survived."
During the course of her congressional career, Speier referred back to her Jonestown experience numerous times in discussing pending legislation. The most recent example came in June 2022, following mass shootings in Buffalo, N.Y., and Uvalde, Texas, when she spoke in favor of a bill that would raise the minimum age to buy a semi-automatic weapon from 18 to 21.
"I'm a victim of gun violence," she said during a hearing on the Protecting Our Kids Act. "I know what it does to a body, and I cannot believe that my colleagues don't recognize that prohibiting the sale of an assault weapon until the age of 21 isn't going to save lives."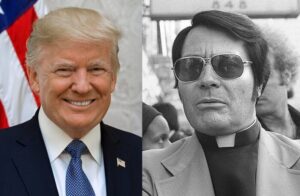 • As the repercussions of the January 6, 2021 attack upon the U.S. Capitol continue to ripple across the country, and as former President Donald Trump continues to repeat his claims that that he is the legitimate president since the election of 2020 was stolen, the comparisons between him and Peoples Temple leader Jim Jones also continue to be made. Among the articles published within the last 12 months:
• "Donald Trump also has well-documented mental illness, as do most messianic cult leaders. But his mental illness is what makes him dangerous to society, just like [Jim] Jones, [David] Koresh, and [Charles] Manson."
Trump's Messiah Scam Increases His Threat to America, Thom Hartmann, September 23, WhoWhatWhy

• "[Trump has] decided to become a warlord, and he's gathering his people around him much the way Jim Jones when he was under fire decided to hand out the Kool-Aid, much the way the movement in the 1930s around Mussolini and the one around Hitler in Germany, let's just be honest," [Joy] Reid said.
Fox News, September 19, 2022

• "KOOLAID VIDEO: Donald Trump's rally in Ohio compared to Jim Jones' lifestyle and referred to as 'cult'"
Kossy Derrick, Trending Gist, September 18, 2022

• "What's the difference between Donald Trump and Jim Jones? Donald Trump would have charged you for the kool-aid!"
Vox Populi: 'What's the difference between Donald Trump and Jim Jones?' Savannah Morning News, July 24, 2022

• "On January 6, Trump was not much different from Jim Jones at Jonestown, as he urged his rabid followers to kill American democracy."
The Cult of Donald Trump, by James Risen, The Intercept, July 22, 2022

• "Many readers are probably too young to rememberJim Jones and Jonestown."
"Are Trump loyalists part of a dangerous cult?" Editorial, Eastern Arizona Courier, July 21, 2022

• "[The people of Jonestown] all died from cyan­ide poisoning, in blind support of Jim Jones' religious Big Lie. … By way of comparative fast-forwarding to the scenario of cult personality leader former president Donald John Trump, one finds that a similar political Big Lie has been proselytised, promulgated and spread to the extent that the November 3, 2020, presidential election was 'stolen' from him."
Dr Kwame Nantambu, "Exposing the danger of cult leaders," The Trinidad Express, December 24, 2021.
• A splinter group of QAnon – which itself has been the subject of comparisons with Peoples Temple – has suggested that the campaign to return Donald Trump to the White House could emphasize "the importance of physical death" and the need to "prepare" for a mass "termination event." Negative48, a conspiracy group considered more violent than its progenitor, has included discussions of "drinking the Kool-Aid" – although whether the reference is to the group's would-be opponents or to itself is unclear. According to one anonymous source, the group "is now quaffing a cocktail featuring industrial bleach," even as another reports that its followers are being "primed for violence." Reminiscent of language from Jonestown's so-called death tape, the second unnamed source says Negative48 has begun "telling people that death is the transmigration of the soul, basically that after you die, you're going to be reincarnated … There are people who are convinced this is going down to Jonestown … I don't think this is going to end un-violently, whether it ends in mass death or not."
• The Jonestown site in Guyana continues to attract attention as a potential draw for tourists to the remote Northwest District of the country.
In late 2020, the Port Kaituma Tourism Working Group has formally dedicated the beginning of what it calls "the Trail to Jonestown." As the announcement on Facebook read, "The group hopes Guyanese and international visitors will come to the site which is about 30 minutes drive from central Port Kaituma."
The site was also recently featured on the Dark Tourism website, although the description includes numerous discouraging caveats as a place to visit, including the considerations that "almost nothing of the original compound remains except for a few rusty relics of vehicles deep in the undergrowth of the jungle … and to get to it you have to machete your way through the thickets.
The description concludes, "it is definitely not 'tourism' in the usual sense of the word, but an expedition, tricky to organize, edgy and also hard work."
Originally posted on October 26th, 2022.