In 2019, the California Historical Society digitized close to 5,000 slides and negatives of Peoples Temple, and made them freely available online. These photographs were created and collected by members to support the outreach, promotion and publicity efforts of the Temple, and were frequently published in the monthly newspaper, Peoples Forum.
The photographs provide documentation of many aspects of the Temple, such as church services, recruitment trips taken by bus across the state and country, group social activities, and member's involvement in various demonstrations and protests in support of political and social justice. They are remarkable in that they also capture scenes of everyday life of Temple members across a span of years and locations, in particular, Redwood Valley, San Francisco and Jonestown, Guyana.
As is often the case in archives, the bulk of these photographs came to CHS without much identifying information written on them. While the locations and the date can often be discovered through additional research, the names and connections of the people in these photos – most of whom are no longer alive – is at risk of being lost.
With that in mind, and with the assistance of Jonestown survivor John Cobb, the California Historical Society has started a photo identification project to gather as much information as possible about the people in the photographs so that their lives and stories are not lost or forgotten. With the photographs numbering in the thousands, this is no easy task, and we are seeking help from former members, families, and loved ones in supporting this project.
* * * * *
Peoples Temple Publications Department photographs online are available for public viewing online. Scroll through the collection of negatives and slides. For example: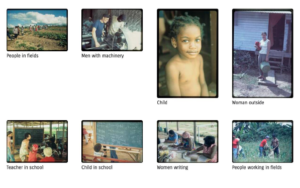 Click on any image to make it full size.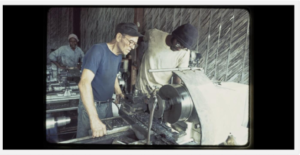 Scroll below the image to look at its accompanying information. The most important information to note is the "Title" and the "Identifier."

The Identification Project will allow us to change the "Title" from a very generic one, to the names of the individuals pictured.
If you wish to participate in this project, please contact John Cobb at johncob@msn.com.
As always, CHS welcomes additional donations to the Collection. For more information, contact Frances Kaplan at fkaplan@calhist.org.
Originally posted on October 4th, 2023.
Last modified on October 28th, 2023.