Gerald Eugene Parks (Jerry/Gramp) gained his angel wings on November 1, 2022. After struggling with kidney disease and prostate issues, he passed away peacefully in his sleep surrounded by his daughter and twogranddaughters.
Jerry was born on August 8, 1933 in Ohio to his parents Delmar and Edith Parks. Jerry grew up on a farm milking cows, taking care of his horses, and eating his mom's delicious homemade food.
As a teenager, Jerry met the girl who would become his wife, Patricia (Patty) Chaffin. Together they had three children, Dale, Brenda and Tracy. In 1966, Jerry and his family moved to Ukiah, California, where they eventually became part of Peoples Temple. In 1978 Jerry and his family ended up in Guyana, South America and were held hostage in Jonestown for eight months. Jerry was a true hero for standing up to Jim Jones on numerous occasions and demanding his and his family's freedom.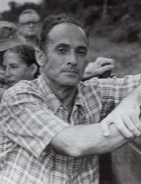 The Parks family left with Congressman Leo Ryan on November 18, but Patty was killed at the Port Kaituma airstrip, the only Temple member to die during that attack. Jerry and his children came back to Ukiah, where he worked as a produce manager at Safeway, a job he held until his retirement. Jerry loved wood-working, playing the piano, riding his bicycle and watching old shows/movies on TV Land.
Jerry devoted his life to his family during his retirement. He helped raise his two granddaughters, and his life was filled with so much love when he became a great-grandpa to six girls. His family was his everything, and he made sure to always put them first.
Jerry died of  respiratory failure from acute  kidney failure shortly after a routine outpatient surgery. He was reunited in heaven with his wife Patty Parks, his mother Edith Parks, his father Delmar Parks, his daughter Brenda Parks (who died in 2013), grandson Jay Warren Parks (who died in Jonestown), his niece Dena Parks, and his grandparents. Jerry is survived by his son Dale Parks, daughter Tracy Diaz, granddaughters Ashley (Arreguin) Flores and Alicia Arreguin, great-granddaughters Aalahnii, Harmony, Lily, Gigi, Jazi and Camilla, as well as several other family members and friends who adored him. He is missed more than words can describe.
My dad was my hero for being brave enough to stand up to Jim Jones and tell him that he did not come  to Jonestown to commit suicide. He was so brave on that fateful day to risk his life and ours to try and get his family out of that hell hole of a nightmare. Even if it meant he might die trying, he stood strong against the odds.
I am eternally grateful for having my dad on my side on the day of our escape, and for every day after. I am so proud and so lucky to have had him for my dad in this thing called life.
(Tracy Parks Diaz was a member of the Parks family who left with Congressman Leo Ryan on November 18.)
Originally posted on October 5th, 2023.
Last modified on October 29th, 2023.