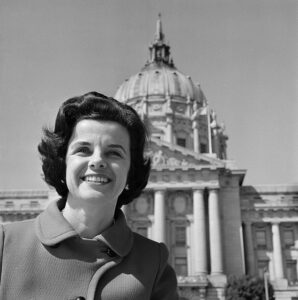 In the days immediately following the deaths in Jonestown, a number of us "survivors" were still living in the Temple building on Geary Boulevard in San Francisco. We were in utter shock and staggered with the horror of what had happened. We had lost everything: Loved ones, friends, our beliefs. Our lives were shattered. Perhaps most frightening was that all of us suddenly found ourselves facing an uncertain future.
In the midst of our fear, grief, and isolation, we were invited out to breakfast at the Myako Hotel by Mayor Dianne Feinstein. She had been Mayor of San Francisco for a very short time. She had taken over the position after George Moscone and Supervisor Harvey Milk were assassinated on November 27, just days after the Jonestown deaths. San Francisco was in turmoil.  World media and Federal agents surrounded the Temple building. Making the decision to engage us in a social setting was, under such circumstances, a risky thing for Mayor Feinstein to do.
Rumors circulated that the remaining Temple members had a "hit list," that we could possibly be armed and ready to carry out murders of our perceived enemies. But Mayor Feinstein chose to bring us out of the building, treating us as guests rather than as the pariahs we were cast as by the media. Also present were Cecil Williams of Glide Memorial Church, Police Chief Charles Gain, psychologist Chris Hatcher, and others. It felt like an invitation back into the community, a welcome back into life.
Dianne Feinstein went on to become California's first female U.S. Senator and the longest-tenured female Senator in history. Her support for women in politics is what eventually brought her about 25 years later to Eugene, Oregon, where my husband Tim (a fellow Temple survivor) and I had settled to start new lives. With his printing skills gained in Temple publications, Tim had started his own business. I was bookkeeper and officially listed as president of the corporation. It was in this capacity that I was invited to attend a women business owners' gathering in support of John Kerry's campaign for President.
The list of speakers for the gathering included U.S. Representative Loretta Sanchez, California Senator Barbara Boxer, and U.S. Senator Dianne Feinstein. I knew the moment I heard that Senator Feinstein would be there that I had to speak to her in person or write her a note, to tell her what a huge impact her actions on behalf of Temple survivors had made. I wanted her to know that at the breakfast she had hosted on the survivors' behalf in 1978, she had given us reason to hope. We were not monsters, nor a threat to the community.  We were well-intentioned, committed to living across economic and racial divides.
With letter in hand, I went into the venue and took a front row seat. Others were still outdoors mingling with the speakers. Someone with a briefcase came up to the front and took the chair right beside mine. It was Ms. Feinstein. The opportunity to speak to her had arrived. I handed her the letter, which she took from me and placed in her briefcase.
Gathering courage, I said, "Senator Feinstein, I want you to know that in part I have you to thank for my life."
That got a look. "That's not possible," she said.
"Yes, it is," I replied. "I was one of the Peoples Temple survivors you invited out of the building and to breakfast. You accepted us, rather than condemning us."
She looked at me with a stunned expression before she confessed, "We didn't know whether to invite you out or to send in the SWAT Team!" She went on to ask about the "hit list," which I assured her that was rumor only. We were both deeply moved by the moment.
So, Honorable Senator Dianne Feinstein, in my own way this Jonestown survivor hopes your kindness and humanity will be a part of your legacy. In the face of overwhelming fear and death, you chose to extend your hand. Thank you. Rest In Peace.
(Jean Brown Clancey is a former member of Peoples Temple. Her collection of articles on this site is here.)
Originally posted on October 18th, 2023.
Last modified on October 29th, 2023.