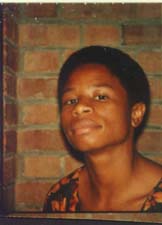 Barbara Jean Walker was a 25-year-old black woman from Los Angeles who emigrated to Jonestown in July 1977 and who – with her three children – died on 18 November 1978. She also wrote two long poems which were recovered in Jonestown and were included as part of the FBI's release.
The shorter of the two poems, written in January 1978, is an homage to Chris Lewis, a former Temple member who lived in Jonestown for a short time before returning to California. Lewis had had a criminal record before joining the Temple and apparently returned to his former life upon his departure from the Temple. He was murdered in the Bayview-Hunters Point district of San Francisco in December 1977, and police speculated that the crime was either drug-related or an act of revenge.
Even though Lewis had been considered a Temple defector, his murder turned him into a folk hero in Jonestown. His killers were never identified or captured, but Jim Jones – perhaps in an effort to deflect unsubstantiated rumors that the Temple had been responsible for the death – presented the news with the equally-unsubstantiated story that Lewis was a victim of the Temple's enemies. Barbara Walker's poem reflects the iconic status that Lewis attained during Jonestown's final year.
"Deddicated to Chris Lewis," RYMUR 89-4286-EE-1-H-20 – EE-1-H-22
PDF
Text
Life was tense in Jonestown in September 1977. Opposition to the Temple was organizing in the U.S., and an attorney for Tim and Grace Stoen had gone to Georgetown to press the child custody suit for John Victor Stoen. The people of Jonestown feared that Jim Jones was going to be arrested and removed. They also feared that their enemies would hire mercenaries – or even enlist the assistance of the Guyana Defense Force – to kidnap John Victor and others who were subject of child custody battles.
Given that atmosphere, when gunshots were fired into their community, the people of Jonestown believed they were under attack. Men, women and children stayed on alert, without much sleep – many of them on Jonestown's perimeter, armed with such weapons as pitchforks and clubs – for almost a week. The incident became known as the Six Day Siege. Reports from survivors of the tragedy suggest that the incident was faked, and that the gunshots –­ while real – were fired by Temple members hiding in the bush.
Barbara Walker's poem, written in December 1977, offers a lengthy account of the Six Day Siege.
"The Front Line in Ballad and Thought," RYMUR 89-4286-EE-1-H-20 – EE-1-H-41
PDF
Text
Originally posted on February 17th, 2013.
Last modified on September 8th, 2020.