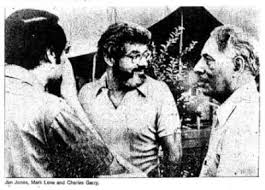 During the summer of 1978, the leaders in Peoples Temple – presumably both in the United States and in Guyana – engaged the services of attorney Mark Lane to represent the group in federal court against the government agencies which comprised the "conspiracy" against them. The details of the arrangements are unclear – none of the Temple records of the transaction survived, and Lane took pains to put some distance between himself and the Temple in the aftermath of November 18, going so far in his 1980 book The Strongest Poison as to deny that he ever promised to represent the Temple in such a lawsuit (an oversight not corrected in his 2012 book, Citizen Lane) – but numerous documents which were recovered from Jonestown lay out the campaign as Lane envisioned it and as Temple leaders (especially Gene Chaikin) responded to it.
Additional primary sources documenting Mr. Lane's connection with the Temple include:
A profile of Mark Lane which appeared in the August 1979 edition of Mother Jones Magazine discusses his involvement with Peoples Temple on pages 30-32.
Most of the material for this section was transcribed by Rikke Wettendorff. The editors of the website are grateful for her invaluable assistance.
Originally posted on February 17th, 2013.
Last modified on June 27th, 2021.