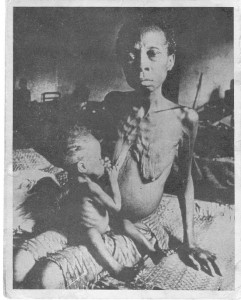 In addition to its church stationery, Peoples Temple kept in touch with its parishioners and supporters – especially in more informal communications, such as thank you notes – with printed notecards. The front of the card was a photograph of a starving Biafran black woman and a child suckling her shriveled breasts.
The photo was taken during the Nigerian civil war from June 1967 to January 1970. The southeastern provinces of the African nation tried to secede and form an independent republic of Biafra. Even though Nigerian forces were unable to achieve a quick military victory over the rebellious territory, they did succeed in blockading the provinces and preventing any food or medical aid from entering Biafra. The stalemate led to a humanitarian disaster, as widespread hunger and starvation spread throughout the besieged area, and there were claims that 180,000 civilians died.
The photograph was a historic image that captured the essence of Peoples Temple's message – echoed in scores of Jim Jones' sermons – about the injustices in the world that allowed "two out of three babies to go to bed hungry every night."
The back side of the card quoted the Parable of the Last Judgment (Matthew 25: 35-40), which also appeared on Temple stationery.
Biafran woman photograph, from the collection of former Temple Associate Pastor David Wise.
Originally posted on February 17th, 2013.
Last modified on November 30th, 2023.