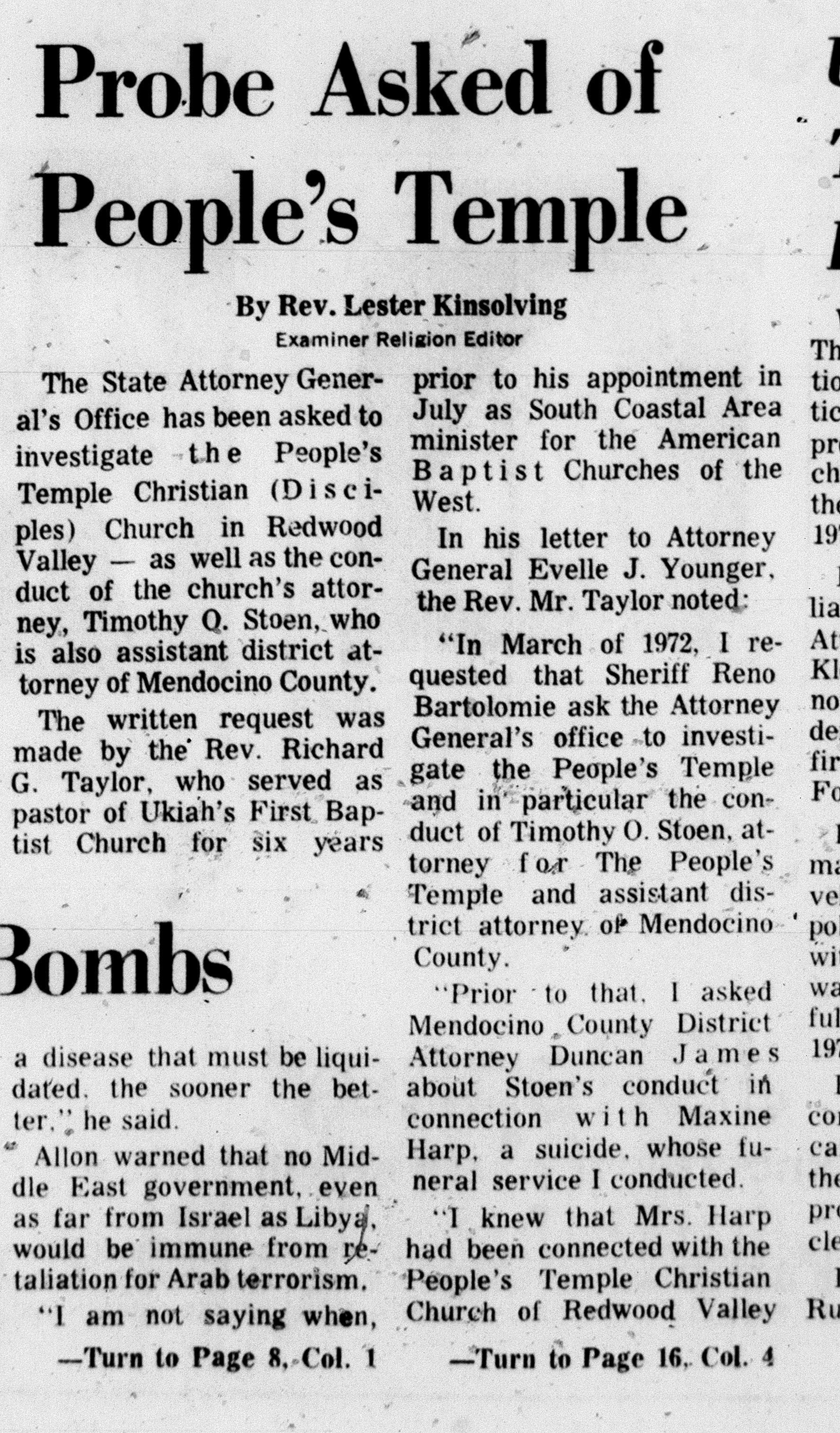 By Rev. Lester Kinsolving
Examiner Religion Writer
Wednesday, September 20, 1972 Page 1
The State Attorney General's Office has been asked to investigate the People's Temple Christian (Disciples) Church in Redwood Valley – as well as the conduct of the church's attorney, Timothy O. Stoen, who is also assistant district attorney of Mendocino County.
The written request was made by the Rev. Richard G. Taylor, who served as pastor of Ukiah's First Baptist Church for six years prior to his appointment in July as South Coastal Area minister for the American Baptist Churches of the West.
In his letter to Attorney General Evelle J. Younger the Rev. Mr. Taylor noted:
"In March of 1972, I requested that Sheriff Reno Bartolomie ask the Attorney General's Office to investigate the People's Temple and in particular the conduct of Timothy O. Stoen, attorney for The People's Temple and assistant district attorney of Mendocino County."
"Prior to that, I asked Mendocino County District Attorney Duncan James about Stoen's conduct with Maxine Harpe, a suicide whose funeral service I conducted."
"I knew that Mrs. Harpe had been connected with the People's Temple Christian Church of Redwood Valley (near Ukiah). I had been informed by Mr. Stoen that prior to her suicide she had been engaged in counseling at the People's Temple, in which counseling Mr. Stoen had participated."
"Following Mrs. Harpe's death, her sister informed me that unidentifiable persons from People's Temple had occupied her sister's house and ransacked it."
"District Attorney James informed me that he had discussed this matter with Stoen, but no action was taken other than requesting Stoen to refrain from any further misuse of his office."
A spokesperson for the Attorney General's Office in San Francisco said that the requested investigation would be considered.
In Ukiah, District Attorney James confirmed the Rev. Taylor's statement that no action had been taken – but he otherwise declined to comment.
Mendocino Sheriff Bartolomie was not available for comment.
But Undersheriff Tim Shae [Shea] firmly denied the claim of another of the People's Temple's three attorneys – that the Temple has armed guards at the sheriff's request.
Redwood Valley attorney Eugene B. Chalkin [Chaikin] wrote the Examiner before any story on the People's Temple was published – as did 54 other Temple members. In his letter, dated September 11 – and hand delivered by Sharon Bradshaw of the Mendocino County Probation Department, Chalkin wrote:
"Our local law enforcement agency has requested that we have trained persons carry firearms, and we have reluctantly acquiesced to the sheriff's request."
But when this letter was quoted to Shea, the undersheriff replied:
"That is an absolutely untrue statement. We never requested this."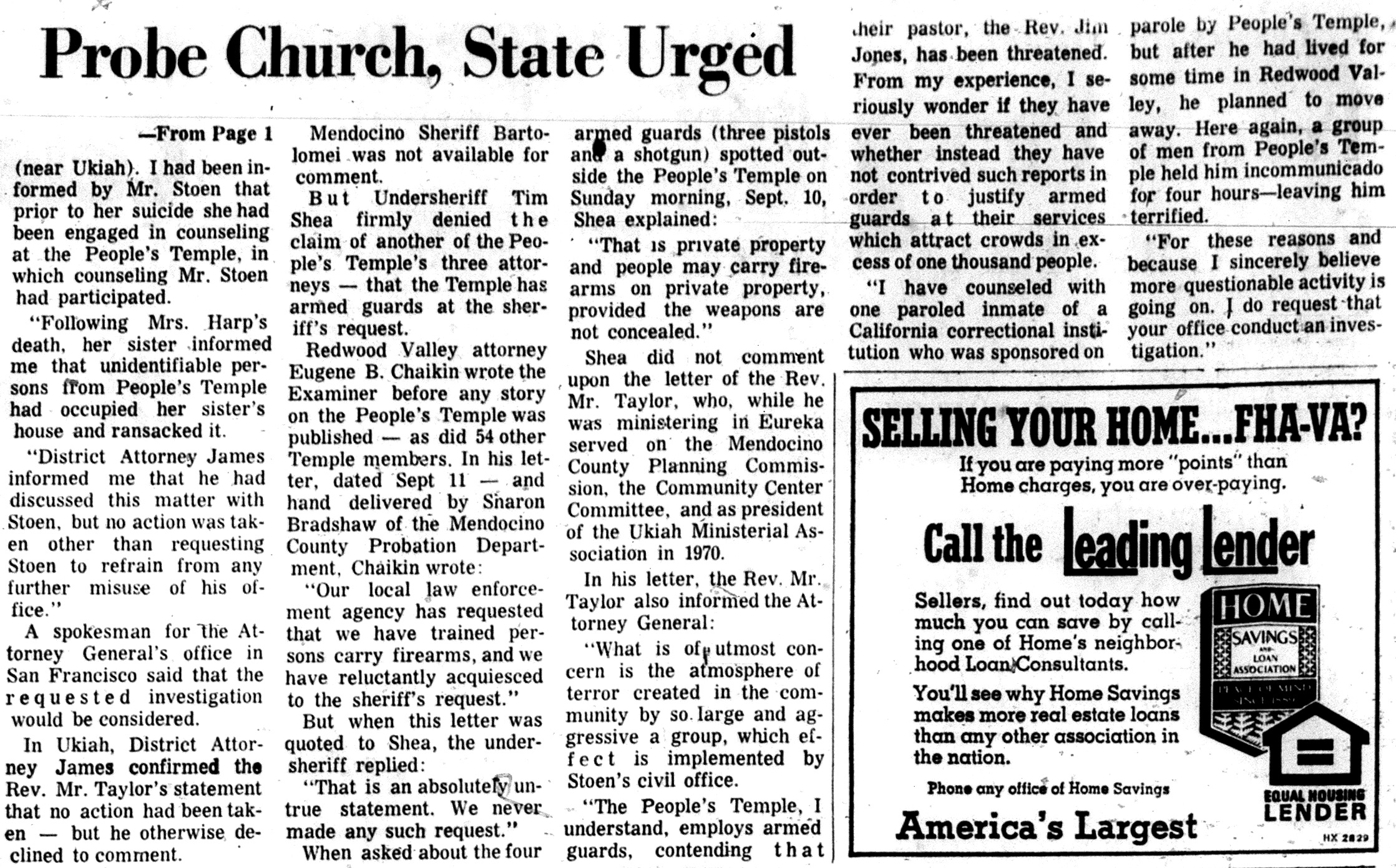 When informed that armed guards (three pistols and a shotgun) were spotted outside the People's Temple on Sunday morning September 10, Shea explained:
"That is private property and people may carry firearms on private property provided the weapons are not concealed."
Shea did not comment upon the letter of the Rev. Mr. Taylor who, while he was ministering in Eureka, served on the Mendocino County Planning Commission, the Community Center Committee, and as president of the Ukiah Ministerial Association in 1970.
In his letter, the Rev. Mr. Taylor also informed the Attorney General:
"What is of utmost concern is the atmosphere of terror created in the community by so large and aggressive a group, which effect is implemented by Stoen's civil office."
"The People's Temple, I understand, employs armed guards, contending that their pastor, the Rev. Jim Jones, has been threatened."
"From my experience, I seriously wonder if they have ever been threatened and whether instead they have not contrived such reports in order to justify armed guards at their services which attract crowds in excess of one thousand people."
"I have counseled with one paroled inmate of a California correctional institution who was sponsored on parole by People's Temple, but after he lived for some time in Redwood Valley, he planned to move away. Here again, a group of men from People's Temple held him incommunicado for four hours – leaving him terrified."
"For these reasons and because I sincerely believe more questionable activity is going on, I do request that your office conduct an investigation."
Originally posted on February 17th, 2013.
Last modified on January 15th, 2020.