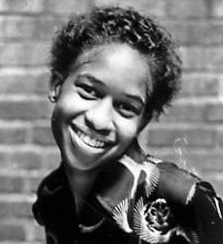 Darlene was special to me for many reasons. She was special because she was my little sister, my September sister. I was born on the first of September, she was born on the thirtieth. Mom called us her first and last September babies.
She was easy to love because, for us, it didn't take a lot of words to express it. We didn't need a lot of words to love on each other. That's what I miss most about her; we lived on each other's unspoken words. Her unspoken words are the most painful part of her death. Whoever said that time heals all wounds must not have known how to tell time. The only thing it's done for me is to distance me from the day the pain started. It absolutely has not healed this wound.
Darlene stopped talking to me after she arrived in Jonestown. Totally. We had a silly habit of getting our point across by giving each other the silent treatment. It used to drive mom nuts, and she'd make us hug or kiss each other to get us talking to each other again. It always worked because neither of us could resist laughing at how silly we were. She's not here to hug anymore; therefore I am haunted still by her silence.
Darlene never wrote me from Jonestown. Ever. She got married, but never wrote to say if she were happy or not. She was pregnant when she left San Francisco, and yet she never wrote to announce the birth of this precious one. I found it strange that no one else ever mentioned it either. One of the survivors later told me that she'd had a son who died prior to the massacre. She never said a word.
I wrote so many letters to her, berating and scolding her for the breach of communication. Silence. I threatened that I would not come to Jonestown, and she would never see the niece I'd given birth to after her departure. It was that whisper of silence that told me not to come.
After the deaths in Jonestown, Mom couldn't afford the cost of shipping her daughter's body back to California, so she's buried with "the others" in Oakland. I can hear her in the silence. I hear her regrets, her sorrows, and her pain. I hear her saying, "It's time to let go, time to stop saying I'm sorry. Time to stop mourning and learn to dance again. Time to hug somebody and laugh again."
I do try, Darlene. I don't always succeed, but I do try.
(Glenda Randolph Bates was the sister of Darlene Ramey, who died in Jonestown. She had a Doctorate in Theology, and passionately preached the gospel of Jesus Christ. Glenda was also a board certified lactation consultant. Her numerous articles for this site appear here. She died on March 29, 2022 from pancreatic cancer.)
Originally posted on July 25th, 2013.
Last modified on April 14th, 2022.