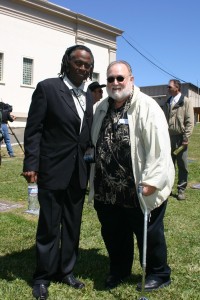 How wonderful was the dedication at Evergreen Cemetery on May 29, 2011.
Many people were gathered there. Survivors, relatives, friends of those who died. Some there for the first time. Some meeting others for the first time. Some meeting old friends. A day of much talking. A day of connecting and sharing. A day of remembrance of our loved ones who died. A day everyone learned much from each other.
It was the formal dedication of a place to remember the Peoples Temple community. What had been a lone cemetery stone on a hill is now a level semi-circular out-cropping with a railing around: all this makes it more prominent. This area contains the former burial stone and four new granite slabs in the ground with the names of all who died that 18th day of November 1978 in Guyana.
Talking with others about lost relatives and friends was the most uplifting part of the day — survivors, relatives and friends, each remembering, sharing and affirming the goodness folks had brought with them to the Temple. Many spoke of "a sense of closure" now, with a place to come to pay respects to everyone who died. For even though the grave at Evergreen contains fewer than half of those who died that day, the stones name them all.
For survivors, it is a place where one can remember the care and concern of all who were part of the Peoples Temple community, for the goodness that was the Temple lay not in any one person, but rather in all the good and hope that each and every person brought to it.
The day was a very marked contrast in spirit from other yearly services. Rather than a annual tirade of hateful preaching and condemnation, with little said of those who died except to criticize and blame, it was instead a day filled with a hum of attentive conversations sharing what we knew of those who had died and what folks have done since then.
This Dedication Day was filled with respect, peace and loving remembrance.
(Don Beck was a member of Peoples Temple for ten years. He directed the Peoples Temple children's choir during its Redwood Valley years and made several trips to Guyana during its pioneer days. Beginning about 20 years after the tragedy, shortly after this site went online, he became one of its most dedicated researchers, transcribing Edith Roller journals, reviewing and analyzing Jonestown records released through the Freedom of Information Act, and compiling them for the first section of documents on the Jonestown Research page. He also contributed numerous articles and remembrances. Most of those writings may be found here.)
(Don died on July 9, 2021, following a lengthy illness. He was 78.)
Originally posted on July 25th, 2013.
Last modified on July 24th, 2021.