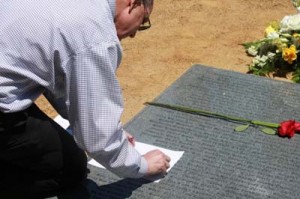 1. Re-Discovering Myself at Evergreen, by Kathy (Tropp) Barbour
2. A Day of Remembrances, by Don Beck
3. Memorial Memories, by Mike Carter
4. 32 Years After Dover, Dignity, by Tim Carter
5. Lost and Found, by Hue Fortson
6. Memorial Motivates Change, by Dawn Gardfrey
7. A Day of Hellos and Goodbyes, by Dan Harpe
8. The Meaning of the New Jonestown Panels At Evergreen Cemetery, by Laura Johnston Kohl
9. What A Wonderful Family We Have, by Linda Mertle
10. Gone, But Not Forgotten, by Herbert Newell
11. Homecoming, by Teri Buford O'Shea
12. Struggling with Emotion, by Mike Touchette
13. To All Who Died in Jonestown, by Jordan Vilchez
14. A fitting farewell, by Vera Washington
15. Memorial Brings Rebirth of Spirit, by Guy Young
16. Working for My Aunt, Speaking for My Cousins, by Susan Ashby
16a. A Thank You Note, by Barbara Sines
17. A Lasting Memorial, by Sarah Anne Bower
17a. Connecting the past with the present – and the future, by Sarah Anne Bower
18. New Jonestown Memorial Concludes Years of Struggle, by John V Moore
19. A Child of Peoples Temple Finds Hope at Memorial
Originally posted on July 25th, 2013.
Last modified on December 9th, 2013.