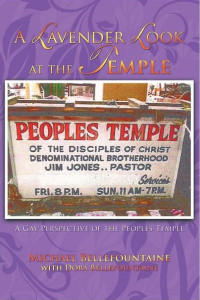 Michael Bellefountaine's book, A Lavender Look At The Temple, a look at the lives of gays and lesbians in the Temple, has been published through iUniverse Publishers, more than four years after his death. The work on his book was completed by his mother, Dora Bellefountaine. It is available through Amazon and Barnes and Noble.
The Amazon listing includes this description:
The lives and deaths of the members of Peoples Temple are ones that remain mostly misunderstood to this day. And for the gay and lesbian members and their families, the truth is sometimes even harder to find.

Author Bellefountaine – an activist, a scholar, and proud member of the gay community – provides a new perspective of the Temple. His detailed research into the inner workings of the Peoples Temple is presented, with a special look at the lives of the gay and lesbian members of the Peoples Temple community. Their stories illustrate how their lives were influenced and affected by Jones and his "acceptance" of their sexuality. Bellefountaine looked deep into the historical connection between Jim Jones's Peoples Temple and the city of San Francisco, as well as the connection San Francisco's first gay councilman, Harvey Milk, had with the Peoples Temple.

The power that acceptance – even false acceptance – can have on people is explored through the detailed accounts of members of the Temple community. He tells the very human stories of those who died in Jonestown as well as how those who survived the horror and their families were deeply affected by the tragedy of November 18, 1978, and what we can learn from this event.
A prolific writer, Michael was a regular contributor to the jonestown report. He also spent hundreds of hours with Don Beck deciphering, typing and analyzing the Edith Roller journals. He also transcribed a dozen tapes scattered throughout this listing.
Originally posted on July 25th, 2013.
Last modified on December 12th, 2013.