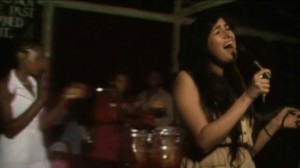 In July 2011, the music group Cults released a video of their popular song, "Go Outside." The video was inspired by – or was an extension of – the sampling of the so-called Jonestown death tape which appears at the beginning of the track. It goes into the life of Peoples Temple itself, presenting film footage from the Temple's history … with an artistic twist.
The song had already been made before as a video directed by Patrick Hoelck featuring Emma Roberts as a woman who steps – however briefly – from a television screen into the fantasy life of David Franco.
This edition of the jonestown report includes A Director Under the Influence of History, an article by video director Isaiah Seret who discusses the creation of – and response to – the recent video. In Talking with Cults: Conversations with a Video Director, former Temple member Don Beck (who met Seret under his online name of Eiredon), writes about his interactions with the director since he first came upon the video in a Google search.
The video premiered on Boing Boing, although it also appears elsewhere. The lyrics to the song appear on the lyricsmania website.
A number of reviews and critiques of "Go Outside" appeared in the weeks following the video's release. Among them:
• A review of a live performance in The Los Angles Times on 28 July 2011.

• Cults Video Director Finds Muse In Jonestown Massacre, in The Huffington Post on 22 July 2011.

• Cults: Indie pop duo draws flock of followers, in The San Francisco Chronicle on 21 July 2011.

• Cults' "Go Outside" music video incorporates Jonestown footage, at Straight.com on 15 July 2011. "So, no bodies are shown, but the video… creates a profoundly creepy sense of foreboding. My question to you, the reader/viewer is whether this is a valid artistic use of the imagery of Jonestown or an exploitation of the tragedy?"
The video was also featured at the quarterly Flux Screening Series at the Hammer Museum in Los Angeles on September 15.