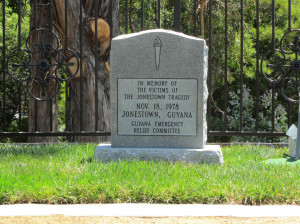 Evergreen Cemetery is not as famous as Pere Lachaise Cemetery in Paris, France; Forest Lawn Cemetery in Los Angeles, California; or Arlington National Cemetery in Virginia. But Evergreen will always have a special place in my heart. Evergreen Cemetery never passed judgment like other cemeteries did, but treated the Jonestown dead with respect, care and concern.
Following the deaths in Jonestown, the country of Guyana rejected an early proposal to bury the bodies on site. The South American nation wanted to develop tourist attractions, but this was not one of them: it didn't want the responsibility of any association with Peoples Temple. This was also the reaction of most cemeteries in the United States, and for many months the bodies from Jonestown remained at Dover Air Base in Delaware waiting for a final resting place, until Evergreen Cemetery agreed to accept them.
Evergreen Cemetery now has the four granite blocks engraved with all of the victims' names, including that of Jim Jones. Despite the controversy, Jim Jones was among those who died that day, and it is proper and appropriate to remember the names of everyone who perished.
Another controversial figure is Linda Sharon Amos, who killed her three children before killing herself, far away from Jonestown, in Georgetown, Guyana. She was the only person outside Jonestown to follow Jones' final instructions. Seeing her name on the memorial must be unthinkable for those who don't understand why Sharon followed Jones' orders. She was one of his most devout, and she followed and believed in Jones to the end. While her final act is truly horrible, we must try to understand her position and point of view. Her name on the memorial should make us pause and reflect.
I was honored to be part of a moving ceremony with tears and laughter. On that day, we celebrated the lives lost in Jonestown. Survivors, relatives and friends came together to unveil an important part of American history. The memorial has finally united all of those who died, and I hope that visitors to the memorial will be able to identify with the dead when they see names like their own on the stones. But perhaps the best way to remember them is to try to make the world a better place, like they did.
(Natalia Danesi's previous article in the jonestown report is Jonestown Memorials Created on Findagrave.com. She may be contacted at nataliadanesi@yahoo.co.uk.)
Originally posted on July 25th, 2013.
Last modified on December 10th, 2013.