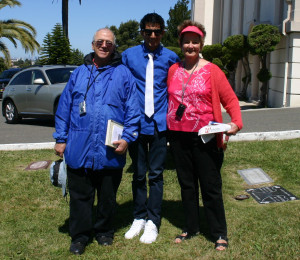 On May 28 and 29, 2011, there was an "all call" for the survivors and loving family members of those who did not survive on November 18, 1978, in Guyana. Hundreds of people attended the Dedication Ceremony of the panels with all the names of those who died in Guyana, and many of them joined the celebration at a beautiful home in Richmond afterwards. The crowd included Temple survivors, family and friends, friends of friends, and writers and artists and academics, and on and on. It was a wonderful, rich, deep, poignant reunion.
My appreciation of all that the day contained was highlighted by one enormous quality. I saw many of my dearest friends from way back, some for the first time in more than 30 years. This event drew people from many miles away, bringing them from the darkness where they had closeted themselves. Some rare attendees of the annual November services made their way back. We all drank from the spring. That is the way it feels to me. I remember my first November ceremony, on the 20th anniversary. I was very anxious and uncertain about why I was compelled to come that year. After I came, I committed to coming every year and have done that for the past twelve years, missing only one. I had found the path back to my very own roots. When I see my friends at these gatherings and partake of the fellowship, I am just ecstatic. I have looked far and wide for the same sense of meaning and have not found it.
I find an invisible thread attaches my heart to every survivor. I do miss what we had. I do miss what could have been. I do miss that potential we had in our grasp. Nothing is tied to me like these people and these visions. My life is a busy one, but many of my tasks merely take up my time rather than nourish me.
I can say that I felt engaged with everything I did in PT. In some ways – and in retrospect – this has become a big problem for me and other survivors. The "real" things that were wrong that were happening around us – and that we now know were wrong – couldn't break through this obsession. I know that now. But I recall how so many of us were visionaries. We were not limited by time and space. We had a new dimension of the reachable and possible outside of those limits. There were things I now regret, but so many more things I miss.
The cloud that sits over us at our events, and shines brightly on all of our heads regardless of the actual weather, is sending us a message. It says, "You are living treasures. Your mistake was dreadful. You have given up much, you have been treated poorly, you have endured much pain. But you are you, you are one-of-a-kind, you have stood for something profound, you now stand for others who made an even greater sacrifice, you embraced a concept outside of your own greed or need. You should be proud of your character. You are loved by some of the best people around. You will undoubtedly never make that mistake again, and you will help deter others. Even though it is really hard, love yourself again." That is the message which the cloud, and the other survivors, can infuse the air with. That is what those who have been hesitant to resurface need to see, feel and hear. It is time for us to love ourselves again.
(Laura Johnston Kohl, who had lived in Jonestown but was working in Georgetown on 18 November, died on 19 November 2019 after a long battle with cancer. She was 72. Her writings for this website appear here.)
Originally posted on July 25th, 2013.
Last modified on November 20th, 2019.