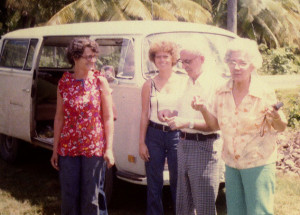 If you had an intimate conversation with any of the survivors of Peoples Temple, no matter what their status on November 18, 1978, I think you would find one mostly-unvoiced regret. Each of us has that one person, or those few individuals, about whom we feel the most remorse. I blame myself over many aspects of my life in Peoples Temple and Jonestown. I survived, 918 died; I have a wonderful family, and many, many sons, daughters, fathers, and mothers all died. I have a long list of things to be guilty about.
I feel particularly sad about Evelyn Leroy's death. Evelyn and I arrived in Guyana about the same time, in spring 1977. She was 23 when she died, which made her six years younger than I was. We worked together as "procurers" and lived in Georgetown for a while. Along the way, we made great friends with many in Guyana's capital city. Even though we worked very hard, we had the rich benefits of meeting people and traveling all around. Our job took us out into the community, where we fell in love with wonderful, gracious and generous Guyanese of all colors. We collected donations, and bought every manner of material and food supplies to ship out for the Jonestown community. We'd go to the canals to procure coconuts, and to the white sandy beaches to gather pineapples. We went to the Stabroek Open Market to buy the freshest produce, and we cleaned donated fish. We were energized by the message we shared about the Jonestown Agricultural Project, and we had full and rewarding days.
Evelyn and I worked together for several months. I can remember once being very angry that she hadn't made time to write one of the thank you notes that was part of our job. I was a zealot and showed her no understanding. It is one of the few times that I can remember when I over-reacted so badly.
Evelyn married Sebastian McMurry, who lived in Jonestown. We would switch off duty so that she could go out to Jonestown to spend time with her husband, family and friends. I would also take a turn in Jonestown, and she would cover the responsibilities in Georgetown. Since it was a 24-hour trip by boat, our trips into Jonestown might be for a week or more.
Late in the summer of 1977, I was sent into Jonestown permanently. I had made a lousy decision and lost my job in Georgetown. Evelyn continued to be the procurer and others were trained to cover her breaks. She continued to work and live in Georgetown for the next year.
In October of 1978, Jim asked me if I would go back into Georgetown to give Evelyn a longer break, so that she could spend time with her loved ones. I interpreted that to mean that he had regained his trust in me. I was delighted to go, even though I loved living in Jonestown. Evelyn and I exchanged places. Before Jim could call me back, Congressman Ryan came to Guyana, and on November 18, 1978, my friends and family, and all the other innocents, all died in Guyana.
Evelyn died that day too, of course. Several days after the tragedy, a man came up to me on the street. He asked where Evelyn was, since he really wanted to see her again. I explained that I had lived, she had died. We were both heartbroken. My greatest regret about her then – and now – is that, for whatever reason, she died in my place in Jonestown.
(Laura Johnston Kohl, who had lived in Jonestown but was working in Georgetown on 18 November, died on 19 November 2019 after a long battle with cancer. She was 72. Her writings for this website appear here.)
Originally posted on July 25th, 2013.
Last modified on January 1st, 2021.