Drinking the Kool-Aid: A (Partial) 2011 Directory

Kool-Aid Commentary
"Drinking the Kool-Aid" . . . Do we ever think about what that means?
by Julie Driscoll, Chicago Liberal Examiner, 1 January 2011
I was just thinking about the term we all throw around, "drinking the Kool-Aid." And although many of us who are a little, well, older, remember Jim Jones and the Jonestown Massacre, some might not. There are times I casually toss that comment out in terms of politics, without really thinking about it, but — like the word "Nazi" — I think maybe we should at times give it a second thought. No one side is more guilty than the other of using this term, either — both sides employ it equally liberally.
Derivatives,
Extensions, and Variations of a Familiar Phrase
Paying a high price for liberty
by Joseph A Kechichian, The Pakistan Observer, 2 April 2011
Regrettably, no Arab country issued a statement assessing riots that rocked Britain this past weekend, where thousands clashed with police over government cutbacks. Rather, the focus was on demonstrators in Syria, Yemen, and elsewhere, which was entirely understandable even if maliciously one-sided. Beyond comical features that passed for serious analysis in the age of "Kool-Aid Expertise," with proselytisers expressing alarm over uprisings, one was intrigued to ask how governments in this part of the world could possibly satisfy calls to end their citizens' humiliation while fulfilling security and stability obligations?
The Real Housewives of Atlanta Recap: Get Out of My Kool Aid!
by Hilton Hater, The Hollywood Gossip, 13 December 2010
http://www.thehollywoodgossip.com/2010/12/the-real-housewives-of-atlanta-get-out-of-my-kool-aid/
Phaedra wants to know why Cynthia is "all up in her Kool-Aid" and what exactly qualifies Kim to be called a "head nurse."
Obama and the Age of Unreason
by Beth Broderick, The Huffington Post, 13 December 2010
http://www.huffingtonpost.com/beth-broderick/obama-and-the-age-of-unre_b_796258.html
I cannot imagine a worse job than being President of these Untied States in these most trying of times.… The good is simply not good enough. In spite of his many courageous acts the common wisdom prevails that he is not tough, not all up in the Kool-Aid of the opposition.
Lawmakers: A Bunch of Jokers
by Julie Bykowicz, Baltimore Sun, 1 April 2011
https://www.baltimoresun.com/bs-mtblog-2011-04-lawmakers_a_bunch_of_jokers-story.html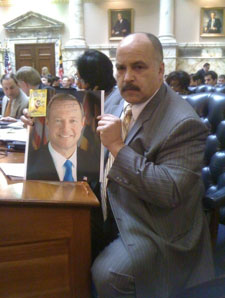 April Fool's jokes abound in Annapolis.… Select delegates also found autographed portraits of Gov. Martin O'Malley, accompanied by a generic packet of Kool Aid on their desks. The implication: Your governor wants you to drink up.
And Finally…
A cartoon appeared on the Internet this past year showing the connection between Jonestown and Kool-Aid. Warning: Some viewers might find the cartoon offensive.
Originally posted on July 25th, 2013.
Last modified on May 13th, 2020.