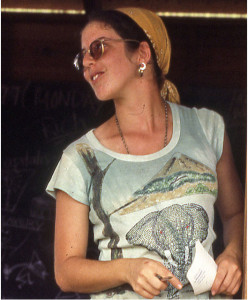 Liane Harris died on November 18, 1978. Unlike the vast majority of people who died that day in Guyana, Liane's life did not end in Jonestown, but rather in a bathroom in the Peoples Temple headquarters in Georgetown. Also unlike everyone in Jonestown, Liane died of knife wounds. Three others – Liane's mother Sharon Amos, and her siblings Martin and Christa Amos – died with her. Charles Beikman served five years in a Guyana jail following his conviction over his presence in the bathroom at the time of the four deaths; Stephan Jones was also detained for a short period before being released.
Stories about Liane – in life, rather than in death – have circulated among former Temple members for years, but it wasn't until we received an email from Liane's brother Adam Harris in May 2011 that anyone started to write them down. It was his email which inspired this special section, and which we hope will inspire future special sections of similar collections of memories of other Temple members.
The edited email follows:
I would like to chat with [survivors in Georgetown] one of these days about their impressions of my sister and her family, and that day in Georgetown, specifically where Sharon, Liane and the children died surrounded by others who did not. It may ultimately be unknowable, but to think of my sister as both victim and murderer is difficult and complex in a way that is new and deserves a fresh look. Our family narrative always put blame squarely on Charles Beikman, although I do not now know if this is fair or valid. Forward this to anyone who experienced this same event from different perspectives.
His invitation yielded numerous stories, including his own:
About my sister Liane, by Adam Harris
A Life of Dignity and Inspiration, by Mike Cartmell
Laughing with Liane, by Kristine Alles
My Younger Sister Liane Harris, by Laura Johnston Kohl
Remembering Liane, by Jordan Vilchez
Liane: The Teacher, by Don Beck
Reflections of an Uncle, by Jeff Plotnick
My Daughter Liane 2011, by Sherwin Harris
Originally posted on July 25th, 2013.
Last modified on December 11th, 2013.