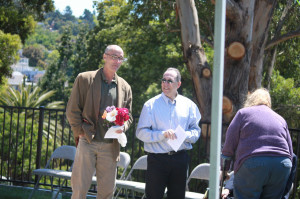 It can be hard to describe many things about Peoples Temple to people who were not connected to it directly or indirectly. Part of the problem is that while everyone shared in this group experience, each has been affected differently. Yet we all still have one thing in common: our suffering for our losses.
The stigma which Jonestown has on the collective consciousness of most people, who first heard about Peoples Temple on November 18th, has these souls reduced to a basic group of "mindless followers" or "crazies." It is hard enough to deal with such a traumatic loss, but to have the memories of these wonderful souls diminished has been incredibly frustrating. To have a memorial to honor the hundreds of lives lost that day meant so much to me.
On a beautiful sunny Sunday afternoon we gathered together to remember our family and friends. It was wonderful to see loved ones and close acquaintances from the past. What was most meaningful to me was to listen to the speakers articulate how the lives of the people they had lost enriched them. I cried, laughed, and was filled with inspiration. I felt a bit of a hole in my soul was filled somewhat by this experience.
I think I was bitter that the people of People Temple had not been honored for what they had made of their lives, and how tragically those lives were taken. This memorial has brought a bit of peace to my heart.
(Mike Carter is a regular contributor to the jonestown report. His previous stories may be found here.)
Originally posted on July 25th, 2013.
Last modified on December 9th, 2013.