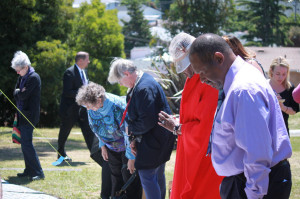 For so many years, I found myself up on that lonely hillside in Oakland, talking and crying to myself in such a sad state of mind and soul, searching for so many answers to unspoken questions and trying to find a way to live in a world with such emptiness. My anger was out of control, and my heart was broken and void of feeling. I would look around at that one simple tombstone which was erected for everyone who was lost on the most traumatic day of my life. Even though we didn't yet know the names of several hundred people who died in Jonestown when that stone was placed in May 1979, its inscription – "In Memory Of The Victims Of The Jonestown Tragedy" – felt so impersonal. And while I was glad I had a place to pay my respects and honor 918 wonderful, caring, loving people who wanted to make this world we live in a better place, it made me sad that, for all these years, not one of their names was anywhere on that mass grave.
This past year, the timing was finally right, and the family and friends who remain came together and brought dignity and respect to the names of every person we lost on November 18, 1978. The memorial stones have left me with a deep sense of peace. It feels like a true resting place for all of our loved ones and a place of healing for those of us that are still here. When I go to that hillside now, I can sit in a place of reflection, look at a name and think back on that person. I recall how much love we all shared. Even though the people are no longer here – and haven't been for nearly 33 years – being able to finally touch their names strangely enough brings some comfort to me.
I am also so proud to be a part of the family that remains, and the unity and strength we still have in us to pull together and complete the honoring of our family that went before us. May the memories of their lives dwell in our hearts forever.
Peace be with you.
(Linda Mertle is a regular contributor to the jonestown report. Her other article in this edition is My Buddy Joe Wilson. Her earlier writings appear here.)
Originally posted on July 25th, 2013.
Last modified on November 23rd, 2013.