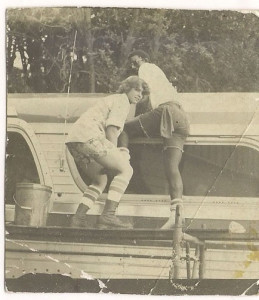 When I first got to know you, we were both on bus-washing duty in Redwood Valley. We hit it off right away. It only took about a week of hanging out with you to relax and trust that you were not setting me up to get in trouble. For so many years, trouble always seemed to find me – I was like a magnet for it – but strangely enough when we hung out together, nobody ever seemed to question what we were doing. I think it had something to do with the way you carried yourself.When you told people we were on a secret mission, they believed you. I loved it. Even my dad believed you, when you showed up at our house that day and told him that Jim needed us for a secret mission. I got in the car and we drove to San Francisco. I wasn't sure what you were doing until we got to Chinatown and you treated me to a day at the movies. We were playing hooky and watching Bruce Lee movies all day, and I couldn't stop laughing.
I knew if I was with you for a day, I was safe. You were like a big brother to me, I could talk about anything and everything with you – and I did – and you never judged me. You were a true friend to me. You took me under your wing and protected me from trouble.
I miss you, Brother Joe…
(Linda Mertle is a regular contributor to the jonestown report. Her other article in this edition is What A Wonderful Family We Have. Her earlier writings appear here.)
Originally posted on July 25th, 2013.
Last modified on November 23rd, 2013.