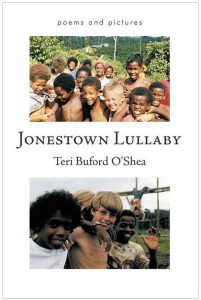 Jonestown Lullaby, a book of poetry and pictures by Teri Buford O'Shea, was launched on September 25, 2011. Described by the author as "a tribute and remembrance to those who worked, lived, and died at Jonestown as well as to all survivors and their loved ones," the book was published by iUniverse and may be ordered at its bookstore. It is also available through Amazon.com, and BarnesandNoble.com. It will also be available in e-book format, Kindle, and Nook.
Teri read selections from her new book during the fall poetry festival of the Florence Poets Society in Florence, Massachusetts. She will also do readings for "Tommy Twilights Poetry Pub," a radio show in Northampton, Massachusetts. She plans to bring copies of the book with her to the Bay Area for the second memorial service on November 18.
One of the book's poems, "I Do Not Love You," appears here. The forward by Heather Johnson appears here.
Originally posted on July 25th, 2013.
Last modified on December 12th, 2013.