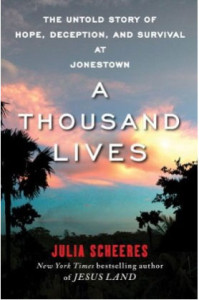 Julia Scheeres' long-awaited book on Jonestown and Peoples Temple – entitled A Thousand Lives – was published in October 2011. Published by Simon & Schuster, the book promises to be the best-selling book on the subject since Deborah Layton's book Seductive Poison.
A contributor to the jonestown report for several years while she worked on the book, Julia's reflections upon completion of the book are here.
The jonestown report solicited reviews from different segments of its readership. Those reviews include:
• In Search of the Grander Scale, by Kathy Tropp Barbour
• A Thousand Lives A Painful and Disturbing Read, by Annie Dawid
• Rewriting Jonestown, by Katherine Hill
• Scheeres Book Offers Understanding of November 18, by Sylvia Marciniak
• The Pieces Still Missing, by Rikke Wettendorff
Reviews during the first weeks after publication include those in:
• The San Francisco Chronicle
• The New York Times
• The Wall Street Journal
• The Christian Science Monitor
• The Los Angeles Times
• Berkeleyside, which describes itself as "Berkeley, California's independently owned local news site."
Pre-publication reviews appeared in Kirkus Reviews, Publishers Weekly (which gave the work a starred review), Chocolate & Croissants and GoodReads.
The book was also the subject of a pre-publication column by Scott James in The Bay Citizen which also appeared in the August 12, 2011 edition of The New York Times.
Originally posted on July 25th, 2013.
Last modified on August 22nd, 2017.