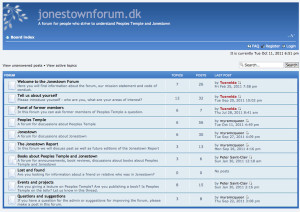 The Jonestown Forum, a user-driven discussion forum, has existed in different incarnations since 2007 when Joey Dieckman first launched it. Born as a discussion group focusing on Q 875, the mysterious post-death tape recovered in Jonestown, it quickly developed into a larger Peoples Temple Discussion Forum. From the outset, however, the purpose of the forum has been to provide one place on the internet where people can have an informed discussion about Peoples Temple and Jonestown.
Over the years, the forum has become part of a "trinity" of sources of reliable information about Peoples Temple, with the other two sources being the Jonestown Institute and members of the survivor community itself, both of whom we collaborate closely with. This means that, while both the Jonestown Institute and members of the survivor community avail themselves for questions, the forum has accumulated enough knowledge through its members to be able to answer most of the questions that newcomers to the Peoples Temple story ask. Sample questions include variations on "Is it true that Larry Schacht didn't have a medical license?" "Did Marceline and Jim Jones share a cabin in Jonestown?" "Did the residents of Jonestown watch television?" "What happened to trash in Jonestown?" and so on. In the forum you can also ask questions of our panel of former members, and you can share opinions with other people who are as interested in Peoples Temple and Jonestown as you are.
The great benefit of coming to the forum with your questions is that the knowledge you acquire is instantly shared with other people. This means that over time the forum will be able to add to the body of knowledge about Peoples Temple and Jonestown through your participation. So come join us and ask all of your questions! In this case, the saying "the more the merrier" really is true: the more questions you ask, the more knowledge will be "out there" for other people to reflect upon and learn from.
(For more information on joining the Jonestown Forum, contact its current administrator, Mark Gallaga.)
(Rikke Wettendorff is the co-editor and regular contributor to the jonestown report. Her other article in this edition is The Pieces Still Missing: A Review of A Thousand Lives. Her previous writings are here. She may be reached at rikke@wettendorff.net.)
Originally posted on July 25th, 2013.
Last modified on November 18th, 2021.