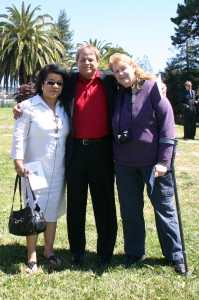 Since the release of Slavery of Faith, I remain in awe of all of the continual blessings that envelop my life, and of the personal growth and knowledge that I have gained.
Slavery of Faith is being read on an international level, which is amazing. A man who received the book for his birthday wrote to ask, if he sent the book to me, would I sign it for him? "What an honor," I responded. When his book arrived, he had enclosed a self-addressed stamped envelope. I inscribed it and sent it back. A couple of weeks later, he wrote to thank me for the personal inscription, and said, "I have only one word: riveting."
The fact that my audience has supported the work encourages me to go on with it, because I have been blessed to realize that the story had to be told and that it continues to encourage those who have read it.
In August, I had the privilege of participating in Dr. Wendy Edmonds' special 50th birthday party. God placed on her heart that, instead of receiving for her birthday, it would be a birthday celebration of giving. Bowie State University in Maryland – where she teaches – hosted the special event. Dr. Edmonds teamed up with the program director of a homeless shelter and invited 27 women either living in the shelter or going through the transitional housing program. After a welcoming breakfast, a panel of three of the women shared their stories and successes. The honesty was humbling, as an environment was created in which they felt honored and loved. The day continued with community leaders discussing policy regarding the needs of the homeless in the state of Maryland. It ended with a commitment to create a new grassroots organization to help women such as these.
After lunch, it was time for me to address the gathering as the keynote speaker. We laughed and we cried, as I told about my own experience with homelessness and transitional housing. After all, I can relate to all of it. Later I placed pink rose petals under 15 chairs. Those who sat in the chairs with the rose petals received a gift of Slavery of Faith. The excitement was infectious as the room echoed with screams of joy, "I have one." They were so delighted to receive the book. I personally signed each one with a special message. I received so much love that day. I sat and talked at a table of five women and had very personal one-on-one conversations.
Afterwards the ladies were treated to massages, facials, hair, makeup, and shopping in a boutique filled with beautiful high-end clothes, donated by Dr. Marsha Jackson, who had closed the boutique and donated her inventory. In fact, all the services provided were donated. The day was fantastic, and we all left feeling full of gratitude. At the end, Dr. Edmonds said, "You were in your element. The ladies' expression as I talked to them was so engaging and interested."
In April, I was guest speaker along with Dr. Julianne Malveaux, commentator and now-president of Bennett College at the International Civil Rights Museum in North Carolina. After I spoke, the audience had so many questions, we could have continued for another hour.
I sold most of my books. Later that evening I attended the reception dinner at North Carolina A&M, which doctoral students and program directors attended.
Currently I am working on another version of Slavery of Faith, an audio and visual project. The ministry is of love, faith and forgiveness.
The interest in Peoples Temple and Jonestown, I believe, is stronger than ever. People are amazed that at the age of 22 years, I heard the voice of God directing me to listen and submit. "How did you keep your sanity and have the courage to leave?" they ask. I always say, "By His Grace and Mercy." My life and my child's life were worth more than living in an illusion of false hope. My message is clear: Tap into the Holy Spirit, and your life will change.
Philippians 2:1-4: Therefore if you have any encouragement from being united with Christ, if any comfort from his love, if any common sharing in the Spirit, if any tenderness and compassion, 2 then make my joy complete by being like-minded, having the same love, being one in spirit and of one mind. 3 Do nothing out of selfish ambition or vain conceit. Rather, in humility value others above yourselves, 4 not looking to your own interests but each of you to the interests of the others.
This mission is for only one purpose; that is to share my testimony of a coming to know the unconditional love of Christ. If it was all about me, I would stay underground from it all, and live a quiet, but serving life. His will is for me to continue to touch lives of those that are lost. It is my responsibility to share this incredible testimony to those that have lost hope, or are confused and hanging by a thread to this thing called life. My relationship with God is very personal. I have moved beyond the need to be a part of anything but the will of God. As I travel, I have the luxury of being able to visit many churches and meet so many people.
I prayed recently to find a permanent job and plant some roots. God has another plan: "It's not time," I was told. So here I am in Birmingham, Alabama, working, more people to reach. Sometimes the things that we don't want to do are the exact things God wants us to do. But you have to have faith and sometimes be still so you can hear. After all is said and done, I want the Lord to say, "Well done, good and faithful servant." Every day I am grateful and still so very, very blessed.
May you remain blessed. God loves you, I do too.
(Leslie Wagner-Wilson (Fortier/Cathey) was a child of Peoples Temple living in Redwood Valley from age 13. She lived in Jonestown until escaping with her three year old son and several others the morning of November 18th. Her husband, mother, sister, brother, niece and nephew died in Jonestown. Her complete collection of writings for the jonestown report may be found here. She is the author of Slavery of Faith, available through her website, and can be reached via leslie.wagnerwilson@yahoo.com.)
Originally posted on July 25th, 2013.
Last modified on October 18th, 2018.