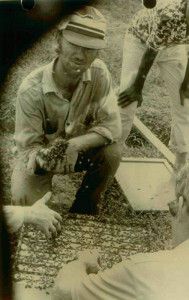 Dear Ronnie and Nancy,
I am sitting here remembering when we were kids, all the fun we had playing and being together. I think of all the wonderful family dinners at Aunt Jay's (your grandmother). She was a great cook. Everyone always had a wonderful time, despite Uncle Asa and my daddy's political arguments. Funny, they argued, but they never got mad. Anyway, I have home movies of those days and of the two of you running around, your mom and dad and your Ford convertible.
Nancy, I remember being in your bedroom one day, when a Neil Sedaka song came on the radio and you just danced all around the room. You loved Neil Sedaka. I remember in high school picking you up every Sunday morning for Sunday School and Church. Those were great times. And, of course, I remember all the art work you did. You were so talented. I had always wished I had your talent.
Ronnie, you were so smart. We went to the same Junior High School. I remember being so proud of you each quarter when you were called on stage to receive your Honor Roll certificate. I remember one of the last Christmas gifts I gave you, a water pipe. I think it ended up at the Downey Police Department. We both had a good laugh over that.
We took different paths in life, and I didn't get to see much of you for a long time. I was so happy when both of you and Bob came to the family get-together for my 21st birthday. That was the best gift I received that year.
Then one day I heard you joined Peoples Temple in San Francisco. You seemed to change direction in your life and made changes that seemed good. I also remember the day your mom called my mom and told her you were in South America. Your mom was crushed. So was I, because I didn't understand what was going on.
I was in Bible College in Springfield, Missouri, the day the news came on the radio that so many had died in Jonestown. I called mom. Yes, it was true, although no one knew for sure about your status. Then, the night before Thanksgiving, the State Department called your mom to confirm your deaths. It was devastating..
For 31 years I've tried to figure out what happened. I have had so many questions. Finally, this last year I think I have found some answers.
It doesn't matter if I agree with the course your life took or not. What is important is that you believed in what you were doing. From what others have told me, and from reading your letters to your parents from Redwood Valley and Jonestown, I can also see you were happy. The tragic part is that it took your lives and for that I am extremely sad. I think of what you could have done. I think of the love of your parents and the pain they have experienced.
I also know, there is no final answer.
It makes no difference that we didn't agree with life choices. What is important is that I loved you. I still love you. I will always remember and love you.
Love, your cousin,
Susan
(Susan Ashby can be reached at Apple404@aol.com. Her collected writings for the jonestown report may be found here.)
Originally posted on July 25th, 2013.
Last modified on December 18th, 2013.